As I am heading back to Cape Town for the first time in a year I figured it was fitting to share my last trip to South Africa with you. 48 hours in Cape Town is definitely not long enough to really take in everything this beautiful place has to offer, but that's all the crew layover allows – so challenge accepted. Taking advantage of the trip being over a weekend I brought my sister, Alice, with me. Read on to see how to maximise your short time in South Africa with our fast paced guide.
Saturday Day 1:
6.30am Breakfast
Scheckters raw
We chose Schekters Raw for our pre hike fuel. The restaurant is vegan and raw – meat eaters and dairy lovers don't be put off by this, once you've tried their smashed avocado and truffle oil on sprouted toast you'll never look back. Wash it down with one of their creative juices – I love the Ginger Ninja, but you could be more adventurous with their charcoal cleanse.
If vegan isn't your thing then there is an abundance of yummy eateries located on Regents Road alongside Schekters.
7.15am – Lions Head hike
My favourite hike in the whole world. Lion's Head is the perfect balance between feeling challenged and still being able to enjoy the hike. The trail sees locals and their dogs enjoying weekend climbs for the best views of Cape Town. Unlike Table Mountain, Lion's Head is a well trodden route with those native to the city (and the odd tourists like ourselves). My previous experience with hiking Table Mountain is that it's predominately tourists challenging themselves, and more often than not, being way out of their depth. For Lion's Head there are two ways to reach the top, the easy trail takes about 15 minutes longer but you in turn don't have to hoist yourself up with the metal chains attached to the side of the mountain. I've tried out both routes and both are doable even for the amateur hiker like myself. Tip – always set off as early a s possible in the morning because the sweltering summer heat in Cape Town will make it a sweaty and uncomfortable affair.
11am Bo-Kaap
Wander around Cape Town's most colourful neighbourhood. All the houses in this area are painted different colours in honour of Eid festival. If you visit here make sure to do one of Cape Town's Free Walking  Tours of the neighbourhood (and of course always tip generously for this educational resource).Cool coffee shops and incredible Cape Malay food complete the visit to Bo-Kaap. Check out Kombuis for views as incredible as the food.
12.30pm V&A Waterfront
Head to V&A waterfront and make your first stop at the Oranjezicht City Farm. Only open on Saturdays between 9am-2pm, the market here has amazing coffee and stalls of local food to make up a delicious lunch. Local food vendors sell an incredible array of freshly baked breads, homemade dips, cheese, ice cream, fruits and veggies, chocolate and of course coffee. We grabbed a coffee and wandered around selecting lots of delicious goodies.
2pm Free Walking Tour
Cape Town's Free Walking Tours depart from Motherland Coffee at all times of day. If this is your first Cape Town visit and / or tour to learn more about the history of the city then an important tour to join in on is the Apartheid to Freedom tour. It gives an absolutely essential look into the devastating history that not only existed in this city, but across South Africa. If you are going to visit Cape Town for all its beauty in landscape, food and good wine then it's important you also learn about institutionalised racial segregation that continued until 1990. The harrowing effects are still apparent across Cape Town today.  Other tours include Historic Cape Town Tour, Diamond Mining History, Taste of Cape Town and Bo-Kaap tour. The tours are informative and don't cost a penny so make sure to tip your guide.
4pm Clifton Beach 
What better way to spend a sunny afternoon than on the beach. Cape Town beaches are stunning and easily the most well kept city beaches I've ever been to. My personal fave, Clifton Beach. Located in a smaller cove next to Camps Bay, it's sheltered from winds and filled mainly with locals.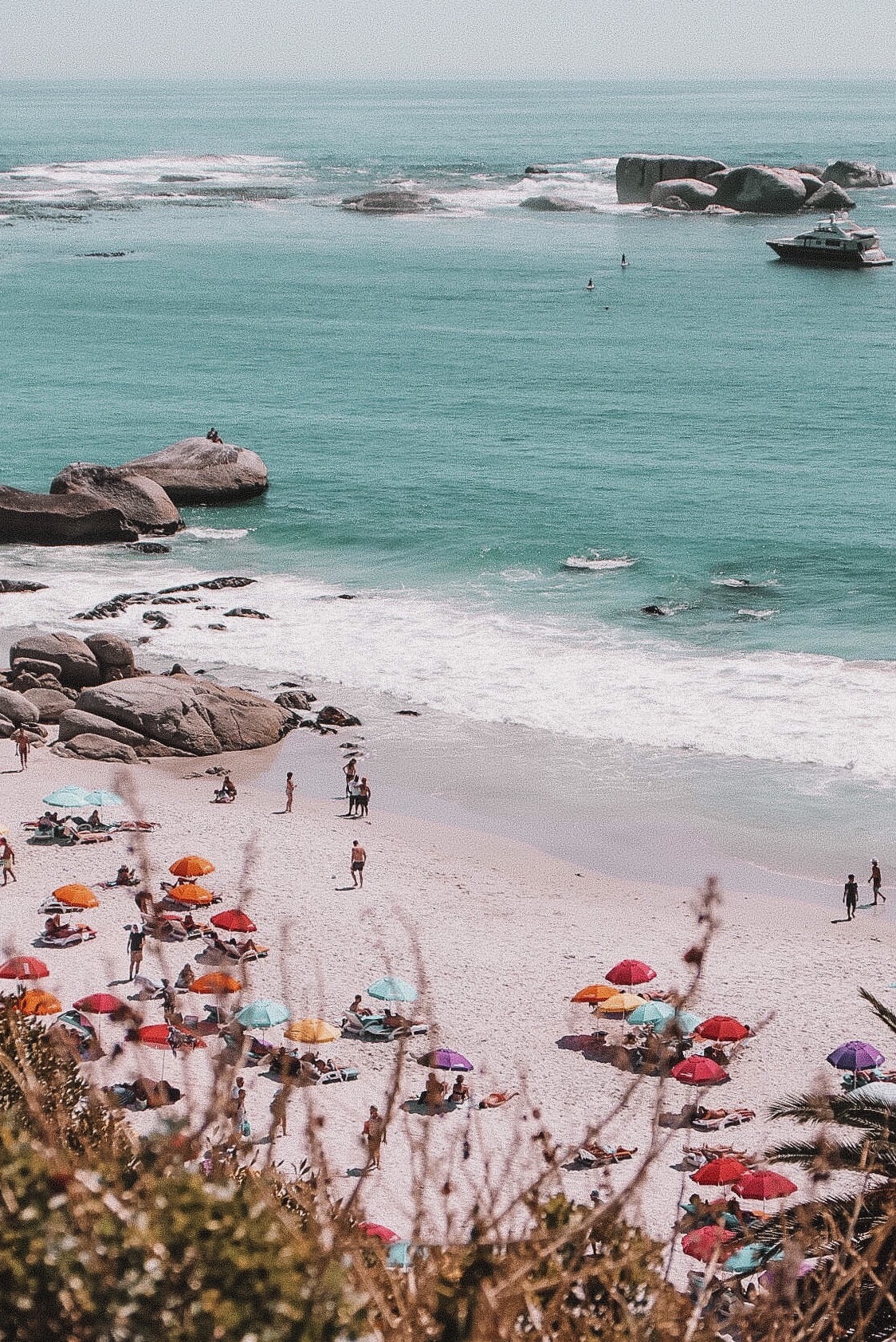 6pm drinks at Camps Bay
Lined with great bars and restaurants you will be spoilt for choice. My favourite is Cafe Caprice and it seems others agree with me as its always busy. No sweat if Caprice is full as any of the open front beach view bars are perfect for a sun downer.
7.30pm Sunset on the beach
You can always stay put with a nice drink to watch the sunset or as we preferred to do, head on to the beach and get a perfect view of the sunset. Watching the Sunset at Camps bay is so peaceful sitting on the rocks with the stunning landscape of Table Mountain and Lion's head behind you.
8.30pm – Dinner and Drinks
Head back to the row of bars and venture into my favourite – La Parada for delicious tapas and gin and tonics served in goblets almost the size of your face. I went for the pink peppercorn and grapefruit one.
Sunday Day 2: 
8am – Sunday brunch at Baked Bistro
Another Regents Road finest, Baked Bistro serves up delicious eggs, great coffee and general yumminess. I went for the fried chicken avocado BLT – describing it as divine is a understatement. Their coffee is also strong and served with lots of plant based milk options. I made mine a coconut milk mocha. We decided to beat the crowds and head in there early before starting our second jam packed day. There are loads of incredible cafes and brunch spots on this road, so feel free to take your pick.
9am Boulders beach
Head south of Cape Town to pay a visit to the beautiful little penguins. Boulders Beach is the closest penguin beach to Cape Town although there are others as well. If you are staying in Hermanus check out Bettys Bay.
12pm Muizenberg
En route back to Cape Town we decided to pay a visit to Muizenberg to check out those classic colourful huts. After a short walk on the beach, we hopped back in the car and headed to the nearest vineyards.
2pm wine tasting
An easily accessible vineyard from Cape Town is the Constantia Valley. Lined up next to each other are a wonderful array of vineyards. We decided to try out three. Obviously indulging in the tasting menu – with sides of meats and cheeses as conveniently we stumbled in here over lunchtime. The ones we visited were:
Constantia Glen – the 7 glass luxury wine tasting gives you a taste of sparkling as well as regular whites, reds and rose. The 5 glass regular wine tasting is just as good with one less red and white. Ensure you get the meats and cheese board to accompany your drinks. All there is left to do is sit back, take in the views and enjoy the wine.
Steenberg – another stunning setting, seemingly filled with more locals enjoying the odd glass than tourists. We opted for the sparkling wines and reds here.
Groot Constantia – last but not least, the Groot Constantia vineyard is the one we opted to do last as we were keen to try their chocolate and wine paring. Dessert anyone? The vineyards are also next to the winery so we had a wander through as well on this glorious day. This is obviously the part where you benefit more from having a driver than hiring a car!
7pm Cable car up Table Mountain
My favourite time of day to visit Table Mountain and rightly so for the sunset views from the top of the mountain. If you don't have any dinner plans, take a picnic with you and get there an hour or so before sunset – it's what the locals do.
9pm Cape Town Steak
Last but not least, a steak dinner cannot go a miss when visiting Cape Town. There are so many restaurants to choose from but Hussars is a hands down favourite. The best steak and sauce combo on their menu is the fillet with bernaise sauce and roasted vegetables. Or go wild and get the chateaubriand flamed with brandy.
Hope you enjoyed my guide. Check out more of my adventures on Instagram here.
jess