I am all about getting in the festive spirit and there really is no better place to do this than in the country that certainly knows how to do Christmas very well. We spent last weekend in a real life winter wonderland in Austria. Our perfect little hideaway for the weekend was Hotel Natur Forsthofgut. This sustainable and luxurious hotel is nestled away in Leogang, just an hour's drive from Salzburg airport. Fortshofgut is the epitome of Alpine chic. Surrounded by breathtaking views of the Alps, this luxurious nature resort with its traditional alpine architecture, sleek spa and cosy cabin vibes is the perfect winter relaxing getaway.
*We visited Austria with the Salzburg tourism board and were hosted by Natur Forsthofgut during our stay.*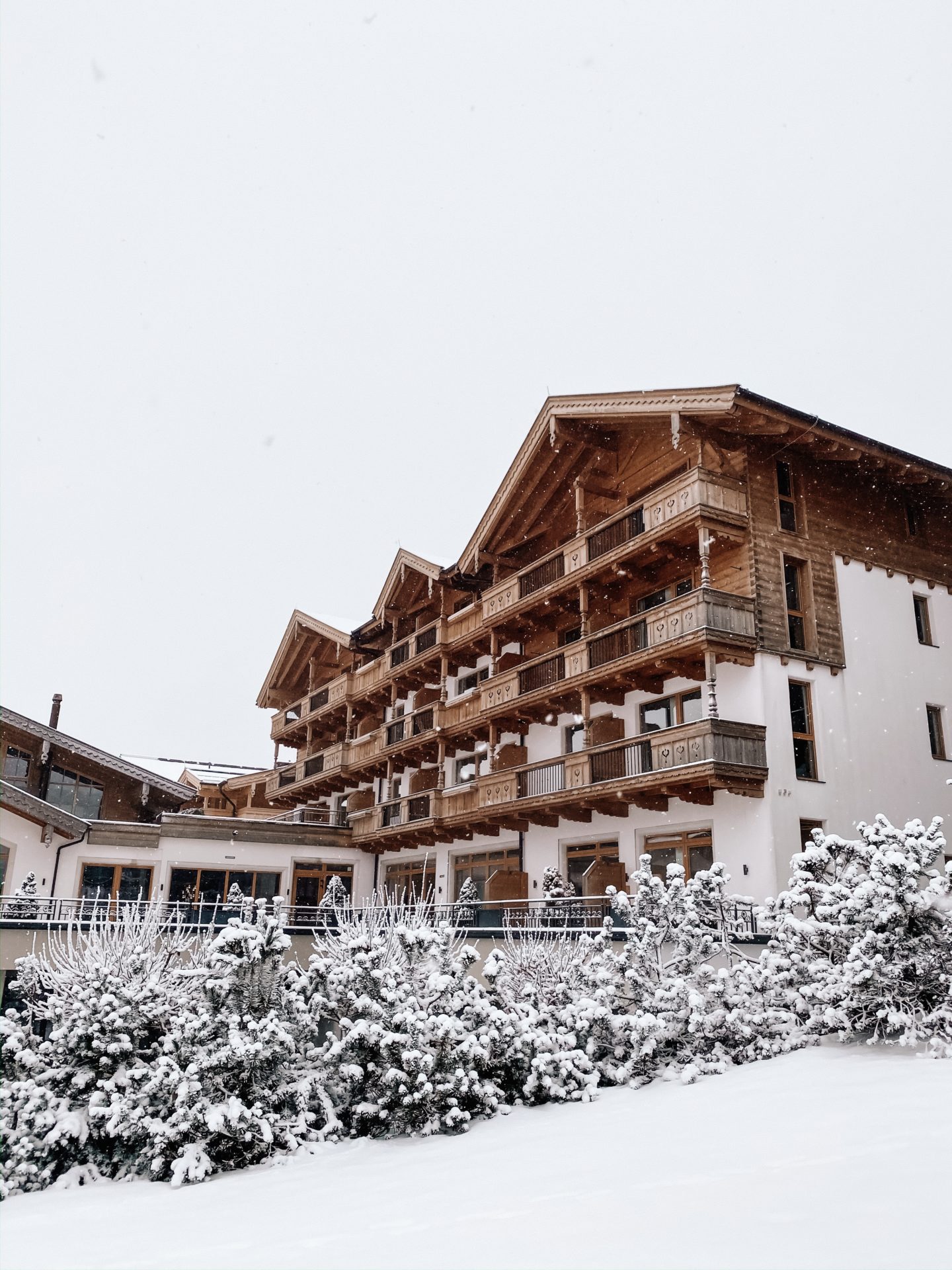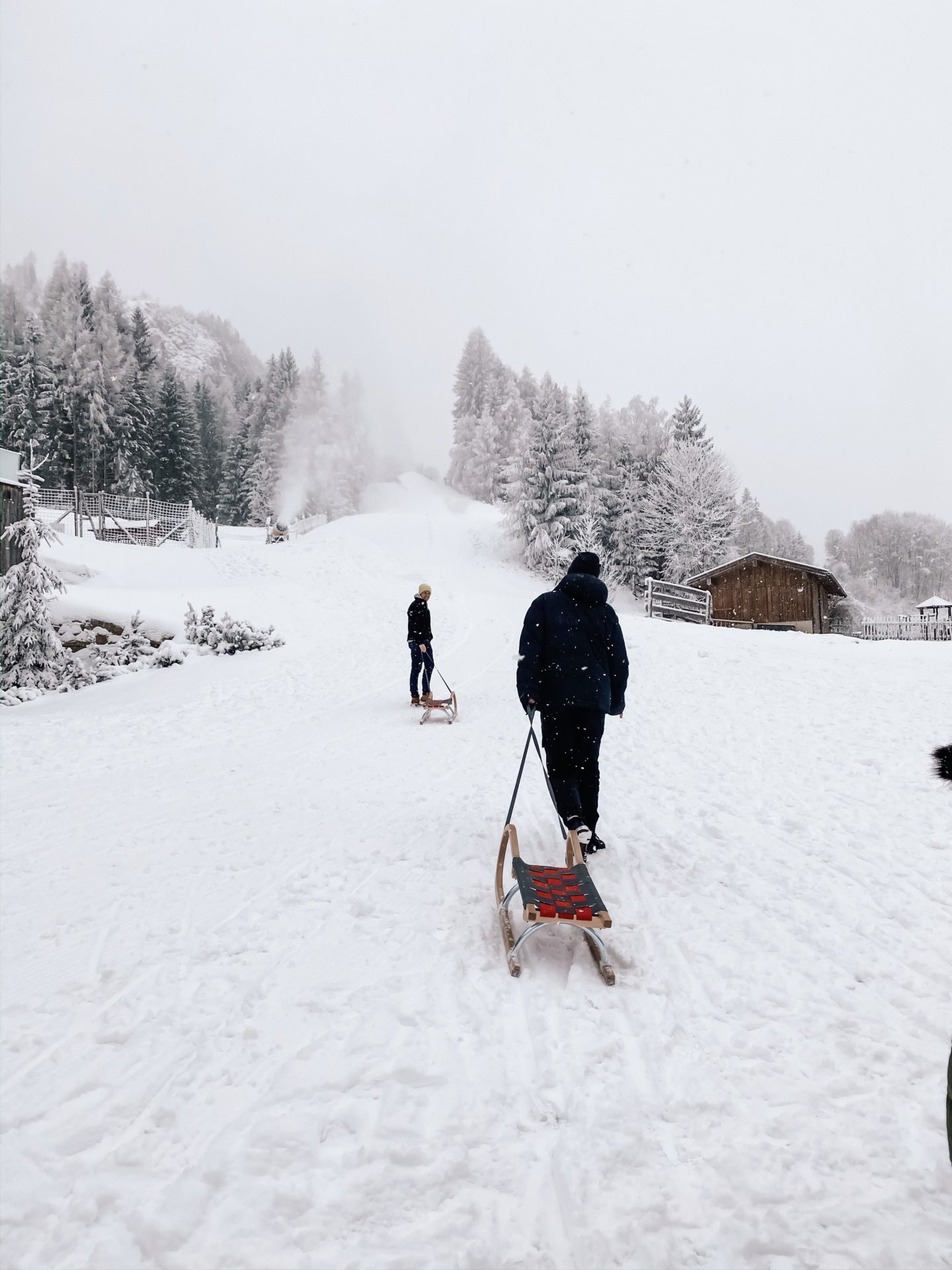 Upon arrival we knew we were about to enjoy a wonderful two days in our own little bubble. Couples, families and groups of friends all visit Forsthofgut for different reasons. Your holiday is what you make of it, some prefer to have an adventurous week of skiing, whilst others opt for a relaxing spa break. With the short amount of time we had there we decided a cosy and relaxing winter break enjoying the amenities the resort has on offer was exactly what we needed.
The spa:
As well as Christmas, it's very obvious the Austrians know how do a good spa. Forstufgut's award winning waldSPA is a three storey marvellous creation. Saunas, steam rooms, heated outdoor and indoor pools, whirlpools, treatment rooms and relaxation rooms make up this fantastic spa.
The Finnish Sauna on the top floor boasts spectacular views out over the snowcapped mountains. Without the need for additional treatments you can still fully indulge in the complimentary offerings of the spa. On the hour the sauna and steam room have different fruit salt scrubs and peels on offer. Daily at 3pm indulge in a complimentary facial mud mask in the second floor sauna, or at any time of day book yourself a relaxing treatment in the family spa where an array of massages and lymphatic treatments are available (additional cost). The most spectacular view in the spa is from the heated outdoor pool looking out at the mountains blanketed in thick white snow.
Food
Whilst it is clear that Fortusgut's focus is on indulgence and luxury this doesn't compromise their eco conscious and sustainable practices throughout the hotel, especially with food.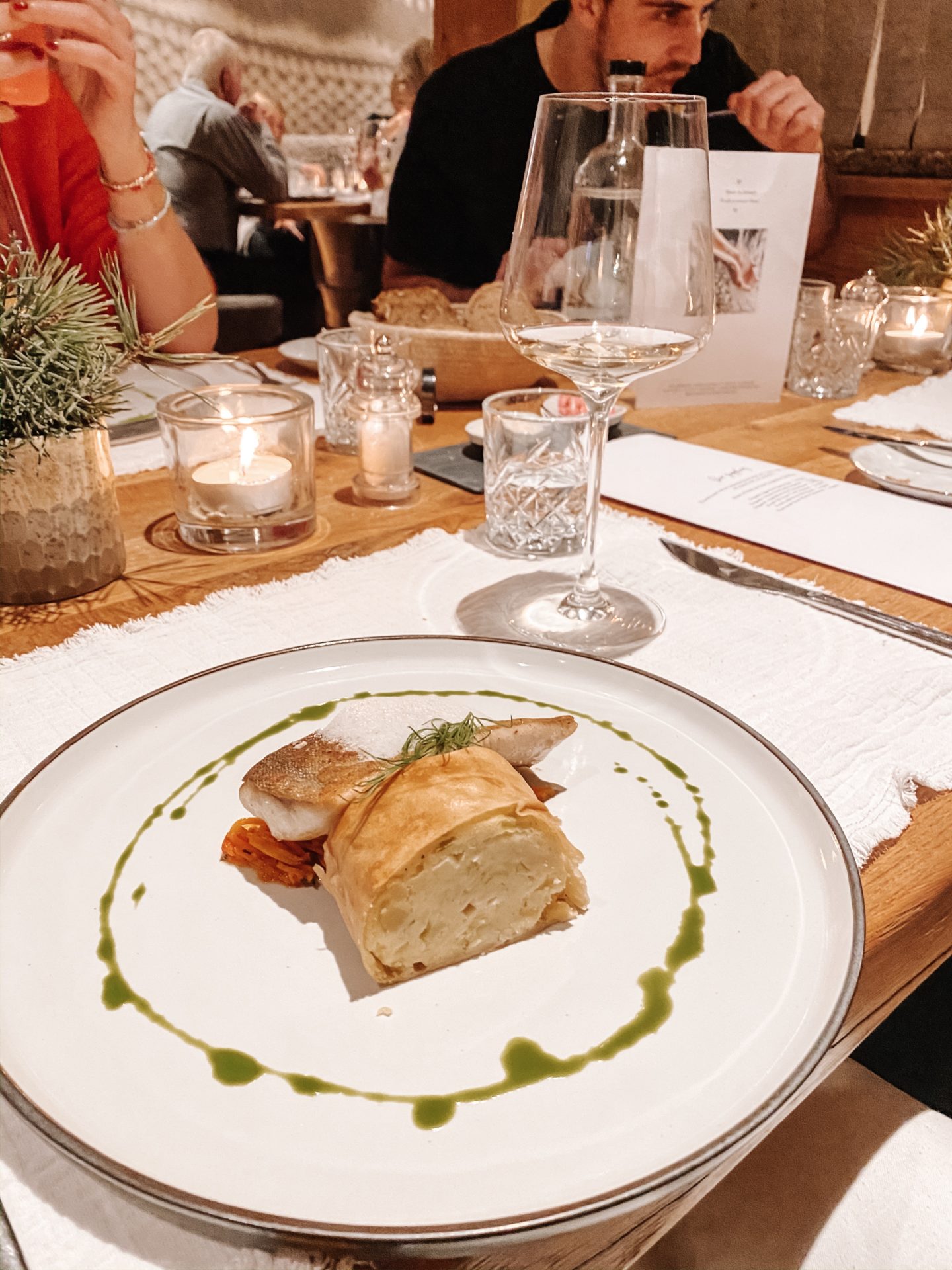 Their R50 menu which is available at breakfast, the lobby bar and at dinner serves dishes that have ingredients only sourced from within a 50km radius using nearby produce from local farmers. There is also huge focus on wellness and health here. Not only in the spa and outdoor activities but also in the food and drink. Kombucha, green juices, gut friendly sprouts and cress served at every buffet (breakfast, lunch and dinner). There's plenty of organic produce on every menu, and a full vegan menu available at every mealtime.
The resort also provides easily accessible drinking water throughout the hotel that flows from their own Alpine spring.
One of the most spectacular culinary experiences is at the daily cheese island during breakfast and dinner. Local Austrian cheeses and also French and Italian cheeses are served with homemade chutneys and fruit.
Each group of guests have a reserved table throughout whole duration of their stay. It's a dine at your convenience system which is a really great perk for larger groups and families who don't need to worry about making reservations at certain times.
Bar:
The lobby bar is a multi purpose space where we found ourselves spending a lot of downtime. Upon arrival if rooms aren't ready, the bar and seating area is a comfortable place to wait. With views out to the outdoor pools and snowy mountains, cosy up by the fire on an oversized extremely squishy sofa and order some food and drink from the bar.
The bar and lobby area also makes for a perfect place to snuggle up and enjoy a good book. And most importantly it makes for a wonderful pre dinner drink.
The bar staff here certainly know their menu inside out. Their spot on recommendations from an extensive list of cocktails will help you decide on a tipple. They suggested a rum Old Fashioned for a vanilla and chocolatey twist on this whiskey classic, and it was winter warming perfection in a glass.
Accommodation
The family suites are light, bright and cosy. The rooms are filled with Alpine wood furniture (of course) and smell glorious. The balcony views look out to the snowy mountains and all rooms have a Nespresso coffee machine, organic body wash and shampoo and a pillow menu. Yes, a pillow ordering service is complimentary and you can choose from 9 different pillows from lavender to pink salt to alpine needles. We opted for the lavender one and the alpine one. They are delivered to your room in minutes and the perfect addition to your super XL kingsize bed. Which all makes for an extremely comfy and well rested night's sleep.
Activities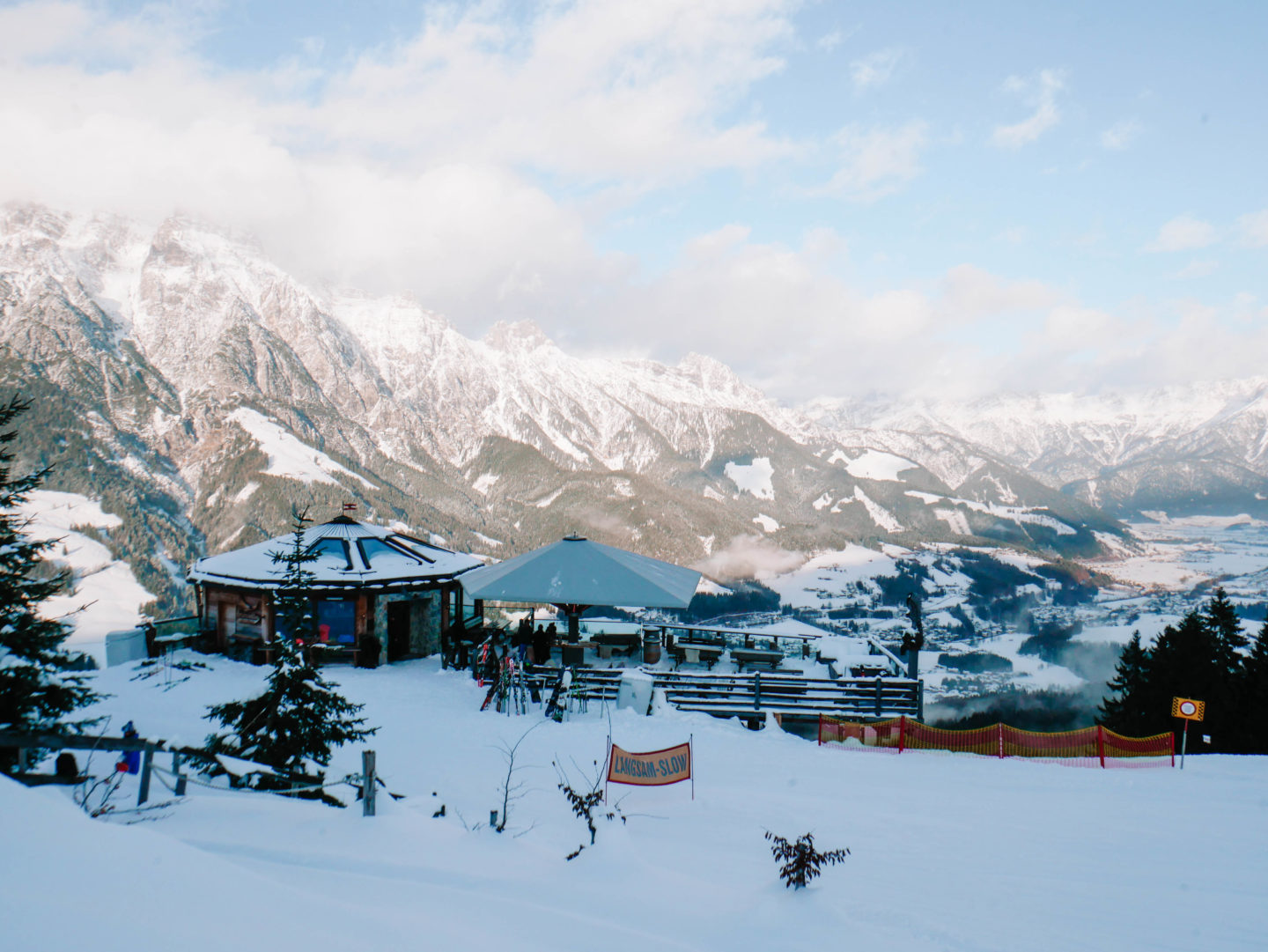 Forsthofgut is a ski in ski out resort. Weather reports are printed out daily on the breakfast menus allowing the days activities to be decided over a spot of coffee, some rosé fizz (all complimentary) or a freshly made green juice. Workout classes and spa treatments are all listed on the breakfast menu too.
You can book all inclusive ski holidays through the resort as well as just a relaxation spa break which is what we opted for. The holiday can be tailored to whatever you want. The hotel is the perfect place for a relaxing spa break or an adventurous ski holiday (or both!).
Even if you aren't skiing, every guest at the hotel gets one return journey on the ski lift to the top of the mountain. If skiing isn't your thing, you can still dine at one of the restaurants and enjoy a drink whilst looking out over breathtaking views of mountains and thick pine forests stretching as far as the eye can see.
Free childcare is also available throughout the day which means parents can get the best of both worlds if they want to enjoy a fast paced day on the slopes without the kids. (or an afternoon in the adult spa).
Forsthofgut is a place for everyone. This relaxing winter and festive break was exactly what was needed in the run up to Christmas. We are now planning our return to the hotel, but this time in summer to try out the outdoor summer activities they have on offer.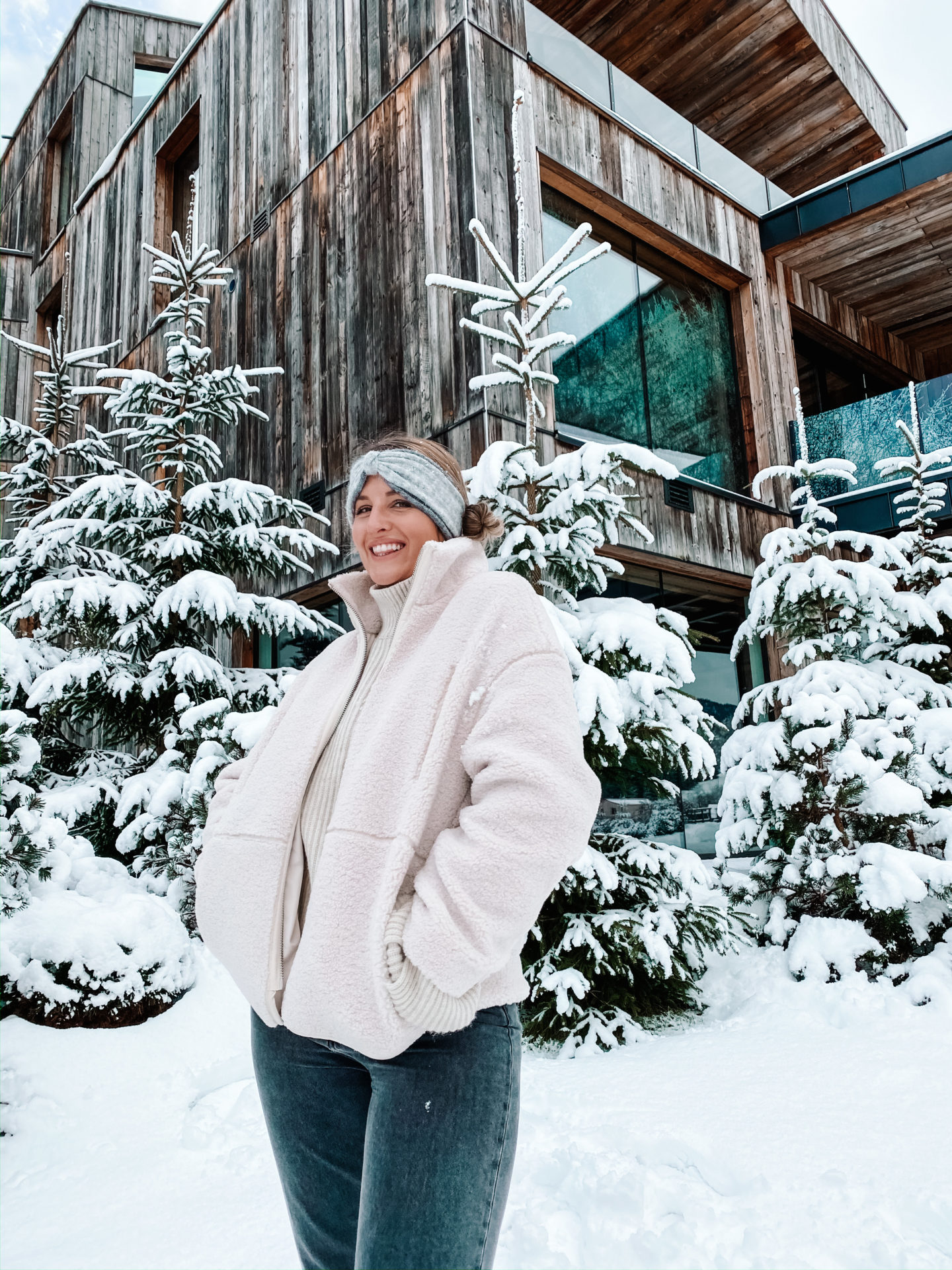 Pin me for later!