San Miguel de Allende is a picture postcard town set 150 miles North of Mexico City. Descending upon the town, it looks like a fairytale with its grand Cathedrals and churches taking centre stage on the landscape. The streets are lined with colourfully painted terracotta buildings and at each turn cactuses and fuchsia flowers gracefully complete the picture.
When you visit you'll understand why it was labelled a UNESCO heritage site in 2008. The town is immaculate and the buildings are preserved perfectly. The town is the perfect weekend away with its culture, history, shopping, bars and restaurants.
But first, Coffee.
For a small town, San Miguel de Allende is blessed with great coffee shops.
Lavanda Cafe famous for its lavender latte also serves an array of more standard coffees as well as a good breakfast.
Ozo Azul which is more on the outskirts of the town, serves a delicious Mexican Mocha laced with their own chocolate and cinnamon. Almond milk and soy milk are on the menu here which means those plant based milk lovers of the world can enjoy something more than just an Americano. A small courtyard at the back of the coffee shop plays live acoustic music on weekends as well.
Ki'Bok Coffee – artisan coffee served by skilled baristas and you can even enjoy your brew with a wonderful view on their rooftop terrace.
Baja Fish Taquito
Taco lovers make sure you visit Baja Fish during your visit. Their ceviche tostadas are the perfect combination of fresh tilapia ceviche, zingy lime and a hint of chilli in their homemade habanero sauce. The Baja taco is a winner on the taco scene, melt in your mouth battered tilapia served with peppery cabbage and lime. For something a little more off piste make sure to try the octopus and olive taco presented on a bed of melted cheese. They serve the local blonde beer "Allende" here which is the perfect compliment to their delicious food. The roof terrace is a little sun trap and has views over the town. There is no more perfect lunch setup in San Miguel than this.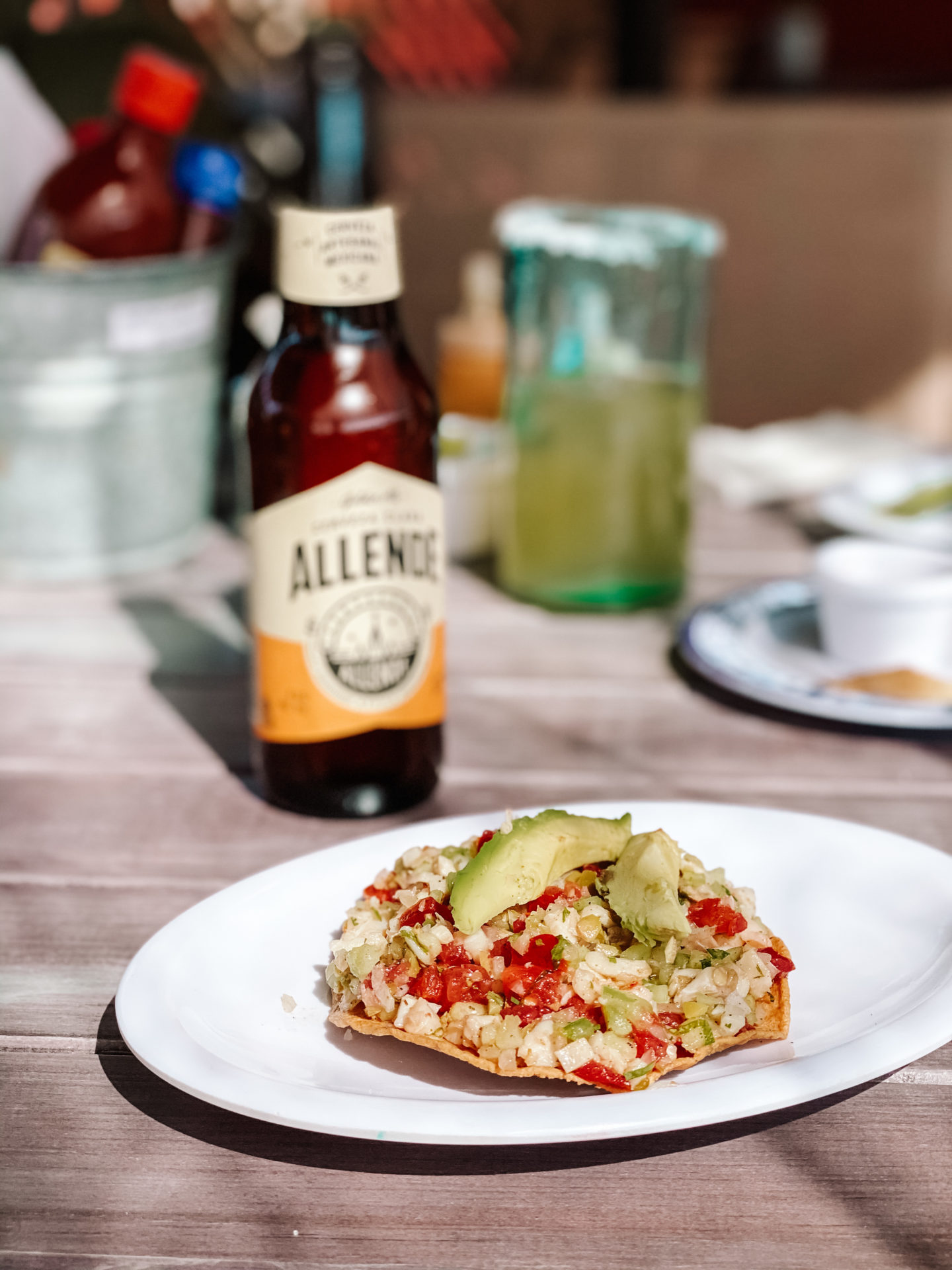 La Azotea rooftop bar.
Not labelled from the street, you could easily walk past La Azotea and never know of its existence. However it's in your best interests to know exactly where it is. There are ample rooftop bars with incredible views in San Miguel de Allende so it's difficult to recommend one over the other. Azotea wins for it's delicious margaritas which are on a buy one get one free offer Monday to Friday.
The most pleasant thing to do here is get wonderfully lost in the labyrinth of colourful streets. Cute cobbled streets are lined with art galleries, boutique clothing stores and souvenir shops. The place is also an Instagrammer's dream. Colour block walls with a feature cactus at every turn makes the perfect backdrop for that winning shot.
Accommodation:
Air BnB with terraces give you your own private terrace to enjoy a San Miguel evening without the busyness and overcrowding of the bars.
Visiting on a Wednesday in January, San Miguel de Allende was quiet yet this place is hotspot for tourism. Weekends are busy and peak season it becomes a popular haunt for American tourists. Restaurants book up and it can be near impossible to get a table on the rooftop bars.
The town can be done in a day yet it is a long journey to and from Mexico City. It is doable and still enjoyable, yet staying the evening in San Miguel allows you to soak up the evening sun and continue drinking margaritas well into the evening.
The town is an absolute must visit to anyone visiting Mexico City and it is worth the four hour journey each way. The bus is comfortable with reclining seats, wifi and individual TVs and costs around £40 return pp. This site here lists all different bus companies and prices for journeys from North Bus Terminal in Mexico City to San Miguel de Allende.
San Miguel de Allende caters to a higher budget level of tourism. The clothing boutiques are expensive, the majority of the restaurants on the map are expensive and the drinks aren't cheap in comparison to other small tourist towns in Mexico. However knowing where to go makes this a more budget friendly excursion. Baja Fish Taquito is reasonably priced for the quality of the food and Azotea rooftop bar has a 2 for 1 offer on margaritas and wine all mid week.

Pin me for later!
Check out my saved Google Maps of places in San Miguel de Allende here.