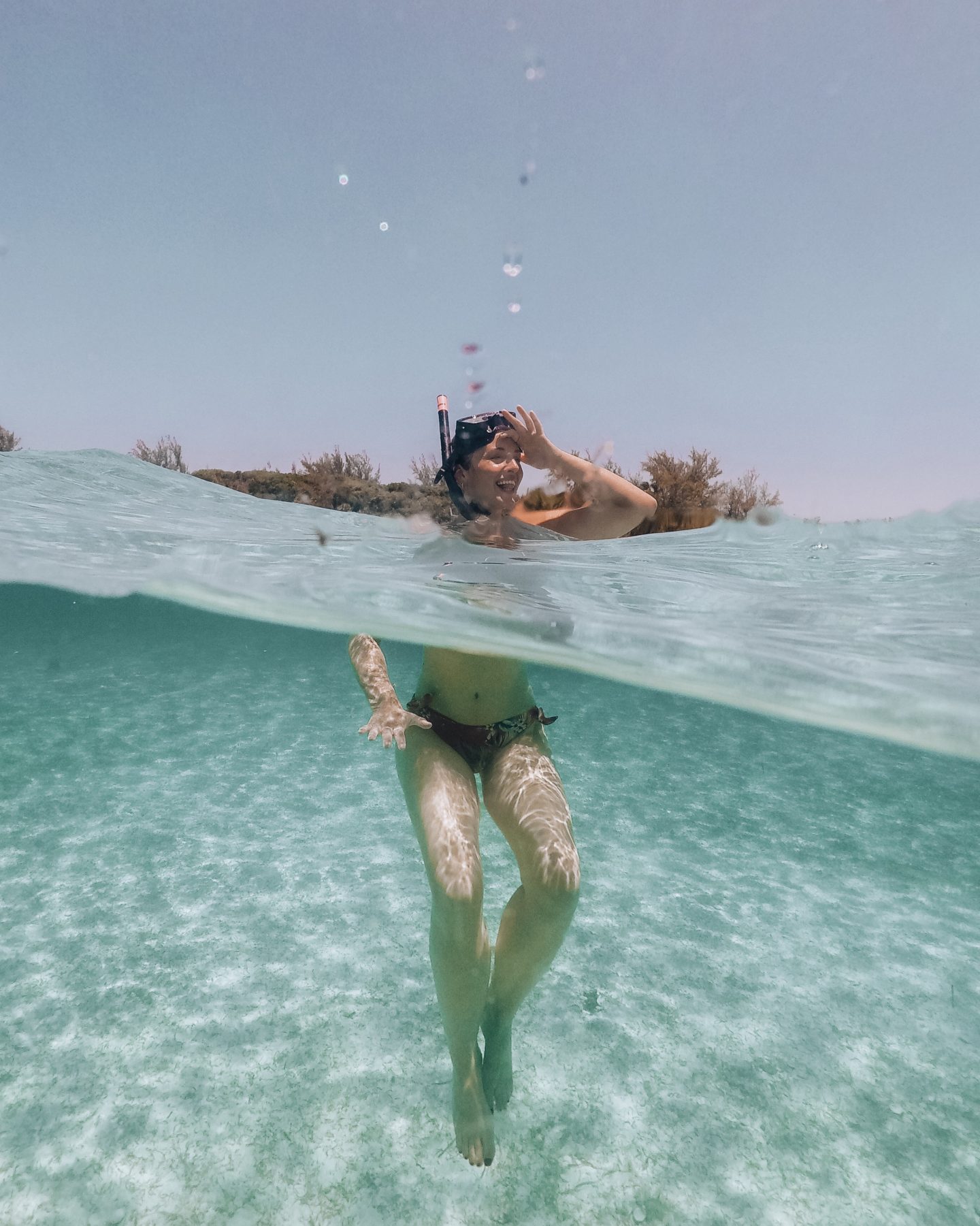 When I think of the Bahamas I imagine powdery white sands, aqua blue waters and rustling palms in the warm breeze. I imagine myself sipping a cocktail, toes in the sand waiting for the sunset. Usually when I have these pre-holiday fantasies they normally don't ever materialise yet this is exactly what our five days in the Bahamas consisted of. Not only was it a wonderful reminder of how much I love the Caribbean, it was a much needed break to switch off from the stresses of daily life.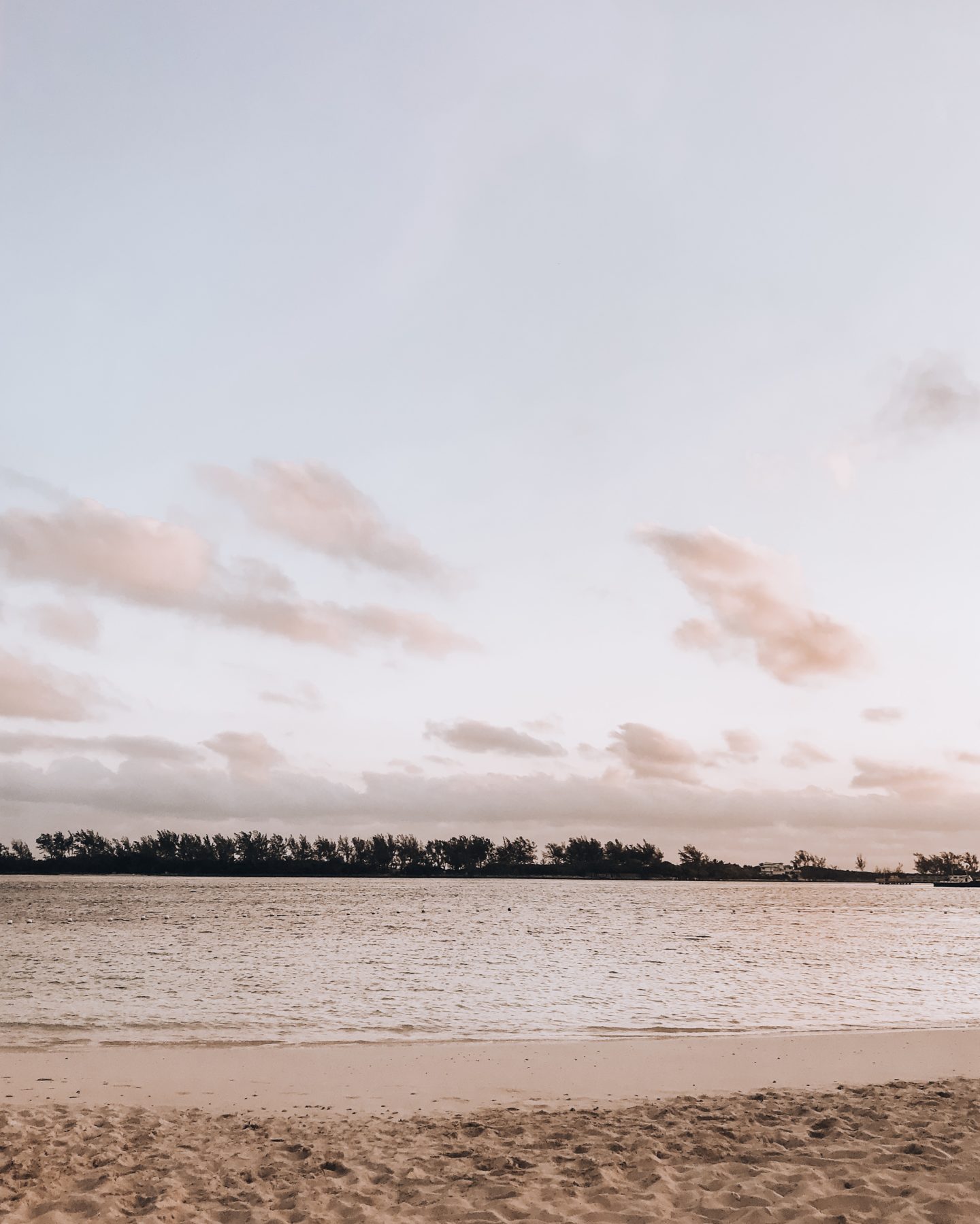 Freddie and I spent five nights in Nassau. This is by far enough time to explore the capital island of the Bahamas before venturing on to more remote areas of paradise. Read on to see what we got up to. 
You can access my Nassau Google Maps here for all the places we visited.
Eat: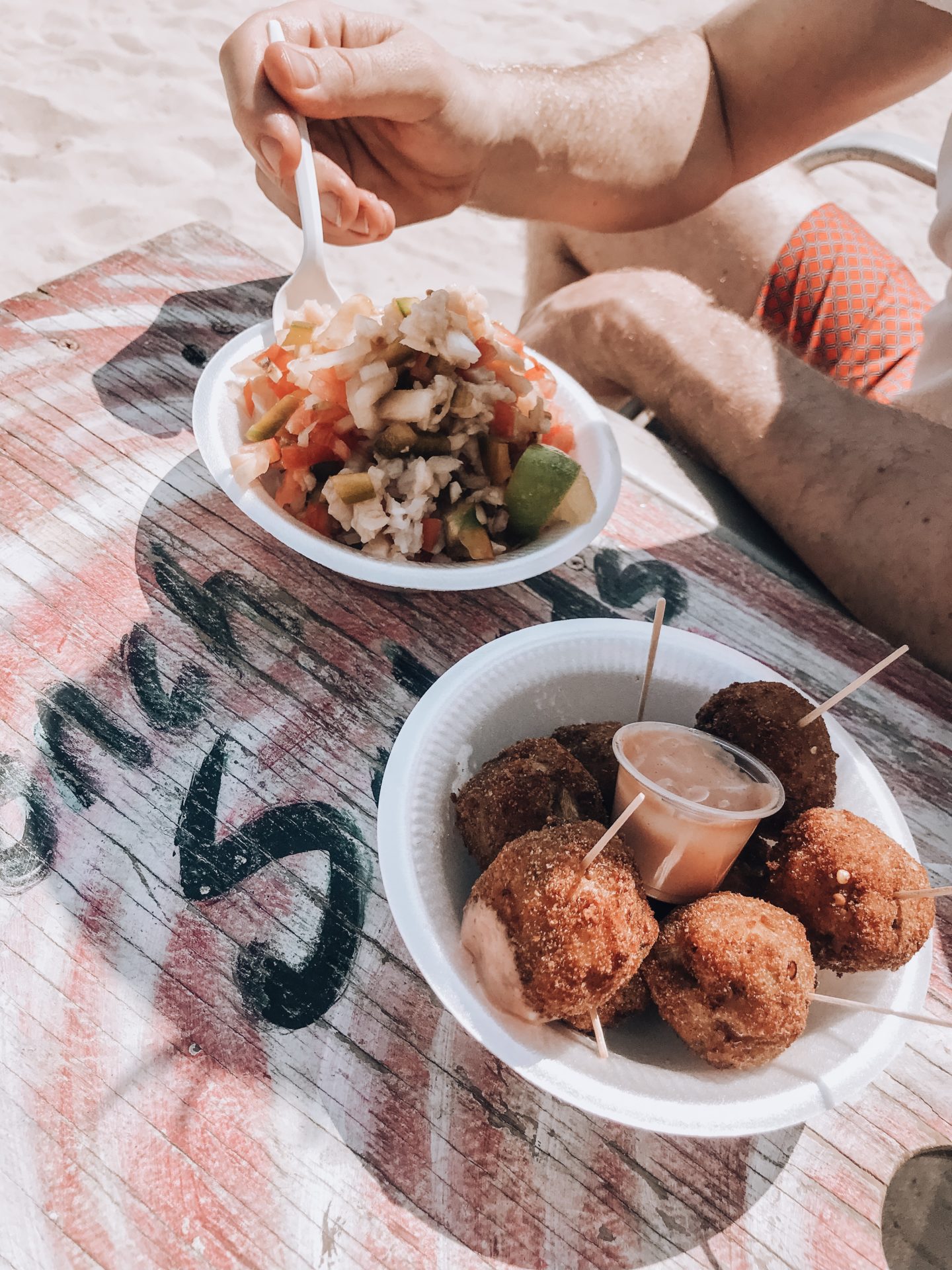 Nassau has a huge variety of food options from wooden shacks on the beach cooking jerk pork in huge steel drums to refined dining in a number of hotels and independent restaurants. I've listed our favourites below:
Sonia herself is a reason to visit the restaurant. Her warm smile and big hugs welcomed us back night 2, night 3 and night 5 of our trip to Nassau. Yes we dined here four times in total and for good reason. The jerk pork was phenomenal. Melt in your mouth, juicy but charcoaled, drenched in sweet fiery ketchup and served with Mac and cheese. It was the perfect welcome meal into the Bahamas after a long flight from London. Whilst we were consistent with our meal choices, drinks varied each night from rum and cokes, local Kalik beer or fiery ginger beer. The view from Sonias open walled restaurant is just what you'd want to see – those rustling palms stretching out over the white powdery sand into the aqua blue waters of Nassau. There are plenty of other restaurants in the area but we couldn't risk trying somewhere else and potentially being disappointed. Our fears were reassured by a taxi driver one evening who stated Sonia's jerk is the best in Nassau. Sonia's restaurant is located in Da Fish Fry, with an array of local restaurants and bars. 
Crab n Things:
A stones throw from Sonias at Junkanoo Beach and tucked into a row of candy coloured wooden huts of bars and restaurants. After you've got yourself a piña colada from Marshalls head a couple of huts along to Crab N Things for the freshest conch fritters in Nassau. What makes them so good is the favourable ratio of fresh seafood to dough. One thing to note is the Bahamas is very expensive so dining at these beach shack style eateries will still set you back a pretty penny so don't be alarmed. Days when cruise ships are in the harbour these beaches are busy so the best time to visit is dusk. Just as the day troopers re board their ships and set sail to the next island.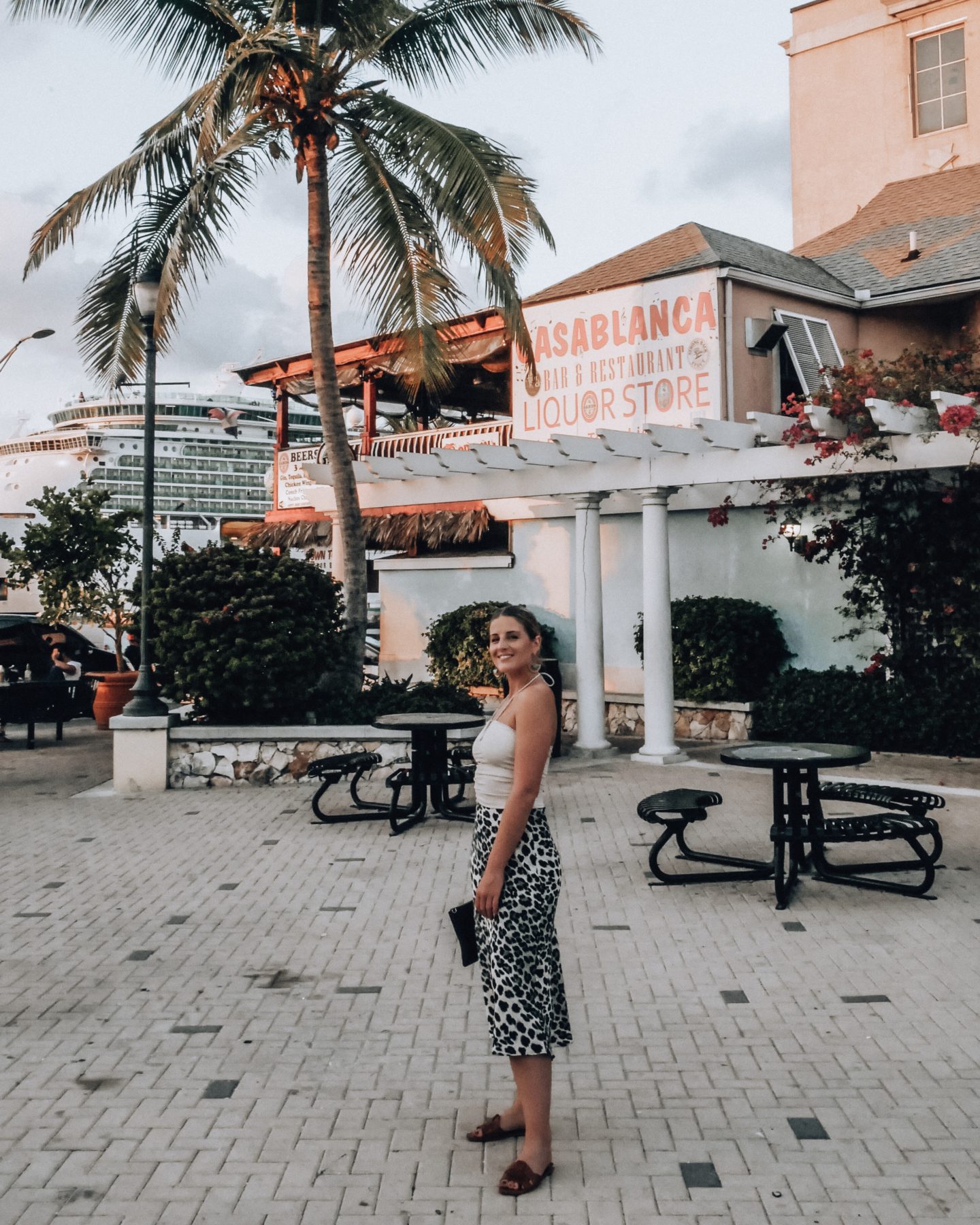 Whilst I want to talk about how mouthwateringly incredible the cracked conch was here, I must first start with saying that these will be the best piña coladas you will drink in Nassau. They were so good, I failed to take a picture of the three rounds we had as they were guzzled so quickly. The house made mix is a perfect balance of fresh pineapple and coconut cream, and what makes these refreshingly juicy yet creamy drinks all the more delicious is the addition of toasted coconut to the mix. All topped off with local golden rum swirling around in a coconut shell. The food is also something to write home about. Considering the restaurant is in an extremely tourist heavy area (right by the cruise ship port) and could easily sell out and charge for overpriced, low quality food like its neighbouring restaurants, Lukka Kari remains authentic to it roots with local catch of the days on the menu and daily piña colada house mix made fresh. Portions are big here, the snapper (catch of the day) was served as a trio of snapper on Freddie's plate alongside lemony creamy asparagus.
Social House Sushi
Fried conch and jerk pork is how I enjoyed most of my meals in the Bahamas, a refreshing change of sushi was welcomed. We dined here at lunchtime which has a great value lunch menu. We had the bento box and a spicy tuna roll. The sashimi is ice cold yet melts in your mouth and the tempura had the perfect crunch. If you want a break from the heavy and slightly stodgy Caribbean cuisine then Social House is the one for you. 
Top tip: If you want directly from Social House Sushi towards the beach you'll find a small road nestled in-between the luxury hotels which will lead you straight to the beach. You don't have to be a Sandals guest to enjoy their public beach!
Beaches:
There are a number of beaches on Nassau that all have that stunning water but if you seek desert island paradise then a boat trip is in order. A number of businesses charter boats to neighbouring islands for a day trip. Ours took us to a small island first to swim with turtles (just like many other charters including Sandals resort catamaran) after an hour or so of enjoying swimming with these gentle beauties we sailed to Rose Island to enjoy a day of lounging on the deserted beach and drinking rum punch.
Arguably some of the most beautiful and easily accessible beaches in Nassau are located on Paradise Island. The thin stretch of sandy beach and gentle aqua waters feels like a world away from the busy cruise ship ports and traffic lined streets of downtown Nassau. Between all the expensive resorts lies free public beach access.
Cabbage Beach has a public footpath tucked between the big hotels. Sun loungers and umbrellas can be hired and rum punch can be purchased. With it's powdery white sand and crystal clear waters this is definitely the place you want to pitch up for a long relaxing beach day. 
History:
There is plenty of history in the Bahamas from pirates to slavery. A number of museums in Nassau old town offer tours and the entry fee is low. Whilst the island exudes this image of divine paradise, like most new world discoveries it has a dark history that not many know about. It would be wroth a visit to understand the backstory to this place.  
Five days is long enough to explore the Nassau and get a feel for the Bahamian way of life. This week in tropical paradise has reignited my love and connection for the Caribbean, it's culture, people, vibrance and happiness. I'm now home and planning my next journey back.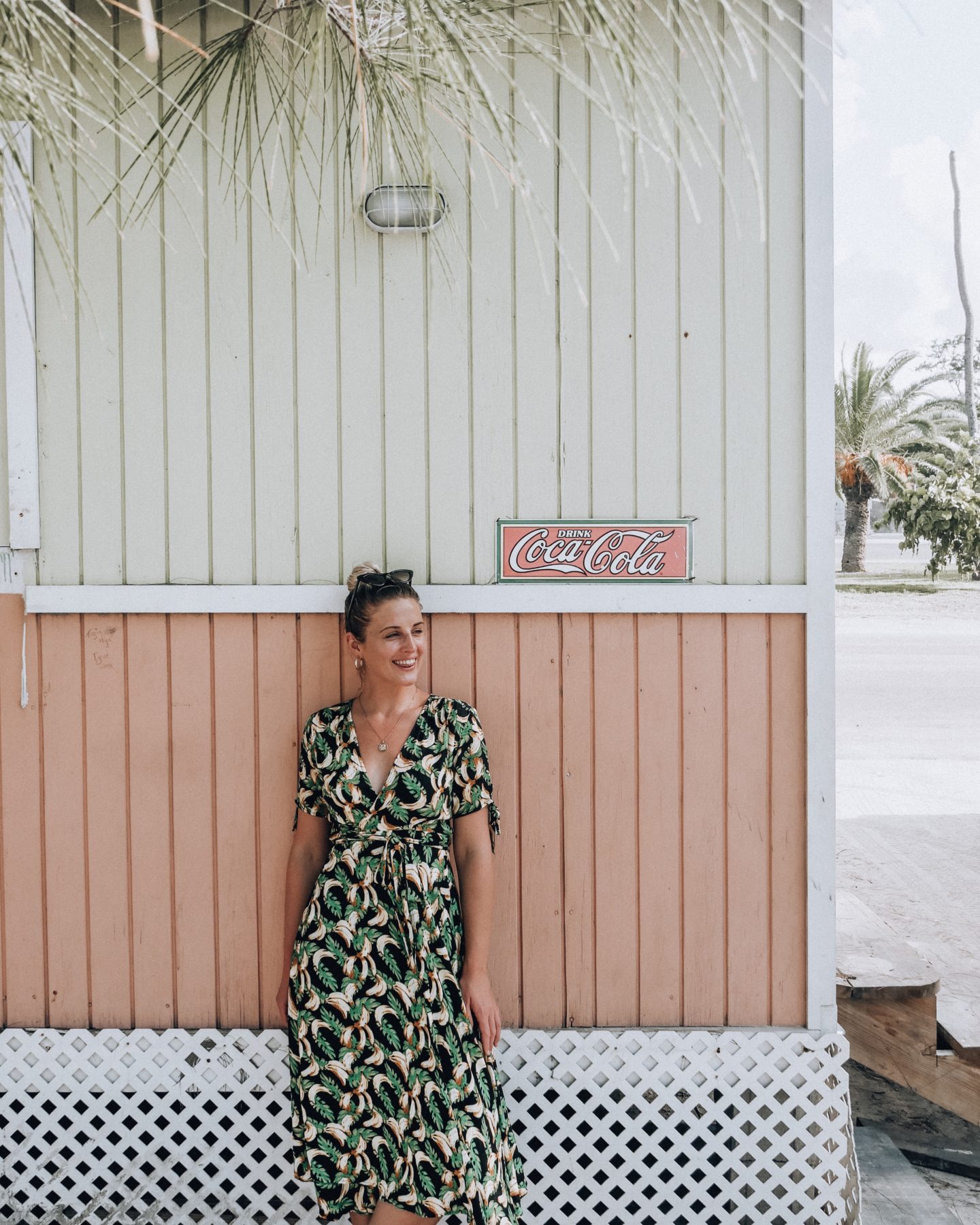 Enjoyed this post? Pin Me For Later!