Cape Town couldn't be a more perfect city break during the bleak winter UK months, especially when this winter decided to prolong itself longer than anyone cares to remember. I landed a long Cape Town layover over Easter weekend, which was the perfect excuse for Freddie to make the most of my staff travel and spend bank holiday weekend in South Africa with me.
Check out my vlog of our 48 hours in Cape Town
Day 1:
After the 11 hour night flight we arrived early afternoon into South Africa. Not wanting miss any of the glorious winter sunshine, we decided coffee and lunch followed by a beach walk was the perfect way to start our weekend.
Mojo Market:
If you can't decide what type of food you want to eat, why not visit a place that has everything? Mojo Market is the recently opened food outlet on Regents Road, housing some of Cape Town's finest food vendor stalls. Pizza, mac & cheese and oysters was the jet lag lunch du jour.
Lunch was followed by a spot of shopping on Regents Road. Unknown Eyewear caught our eye [sorry lol] and we picked up a couple of sunglasses before hitting the beach.

Sea Point Rock Pools
A new find for me, even though I have visited Cape Town eight times in the past 12 months. These beautiful little pools protected from the rough tides of the Western Cape sit along the coastline at Sea Point Promenade. We enjoyed a paddle, and when I say enjoyed I mean endured as the freezing temperatures of that water are painful even in peak summer.
Next up was Clifton Beach, the local's favourite. Parking is free on the main coastal road and it's a short five minute walk down to the bay. Whilst Camps Bay is great for beach bars, Clifton Beach is much quieter, cleaner and more protected from the winds.
Sunset at Table Mountain
After our beach jaunt, we headed to Table Mountain for sunset. Tickets are for sale at the entrance, make sure to buy a return cable car fare. If you'd rather not pay, I wish you well on the two hour rocky hike up as darkness approaches. What begun as an overcast evening where we thought there'd be zero sunset action, actually turned into one of the most epic sunsets we've ever witnessed. Promptly followed by a huge lightning storm, and one hella scary cable car ride back down to safe grounds.
By this point it was most definitely time for more food. What better way to welcome Freddie to Cape Town than a steak dinner? Hussars, of course. Even as a non-steak eater I could still appreciate how beautiful his medium rare fillet steak looked.
Verdict from Freddie: best steak of his life!
Well cheers to that!
Day 2:
You'd think we'd have earned a lie in after one long range night flight, followed by an abundance of activities and no napping, yet 6am came and we were in the car setting off for Simons Town.
But first… coffee. Cape Town does coffee VERY well. You will struggle to venture far and not find delicious and mellow yet strong coffee here. Bootlegger Coffee is one of these places. With a number of outlets dotted around the city you're not far from one of their outlets.
Kayaking:
An 8am morning kayak sounded like a great use of our time when planning this trip in a non jet lagged state. Yet the reality of getting up for that morning alarm and driving an hour in the dark and rain was painful. However, once we got on the water it was clear we'd made the right decision. Kayak Cape Town offer the 2 hour excursion from Simon's Town which takes you round to Boulders Beach in the water. We got to see the cute penguins and learned so much from our informative guides. Watch my vlog here if you want to find out more about this.
Make sure to grab some hake and chips from local Salty Sea Dog fish&chip shop. Even at 10am (don't judge) this meal was spectacular!
Shortly after we made our way to Boulders Beach to  catch a glimpse of the penguins from the land perspective.
Scheckters Raw
Cape Town has an abundance of delicious fresh food outlets and not nearly enough time for me to enjoy them all on layovers. So back to back meals it is! Next up was Scheckters Raw. A bold statement but I'm going to call this place The Best Vegan Restaurant In The World. Please go and try it out for yourselves if you don't believe me.
We had a green smoothie bowl, avocado with chilli and truffle oil on sprouted bread and their BVB – Best Vegan Burger. Washed down with ginger ninja juices.
By this point the rain was keeping us indoors so after an hour chilling at the hotel getting head massages we spruced ourselves up for dinner and headed out of the city to a local vineyard. Set on mountain slopes, Buitenverwachting is SO beautiful. Not only is the food exquisite but the interiors are stunning. It feels like you're dining in a restaurant designed by West Elm.
Day 3:
Jarryds
As the rain continued to pour we found ourselves questioning whether the whole world had been cursed with bad weather this year. Yet nestling in to another brunch spot with coffee and great food wasn't a bad place to ponder such things. Today's choice was Jarryds Espresso Bar + Eatery. Coffee, watermelon juice and of course poached eggs.
Bo-Kaap
Cape Town's most colourful neighbourhood wasn't looking as bright in the gloomy weather, yet it was still fun to wander around. If you visit here make sure to do one of Cape Town's Free Walking Tours of the neighbourhood (and of course always tip generously for this educational resource).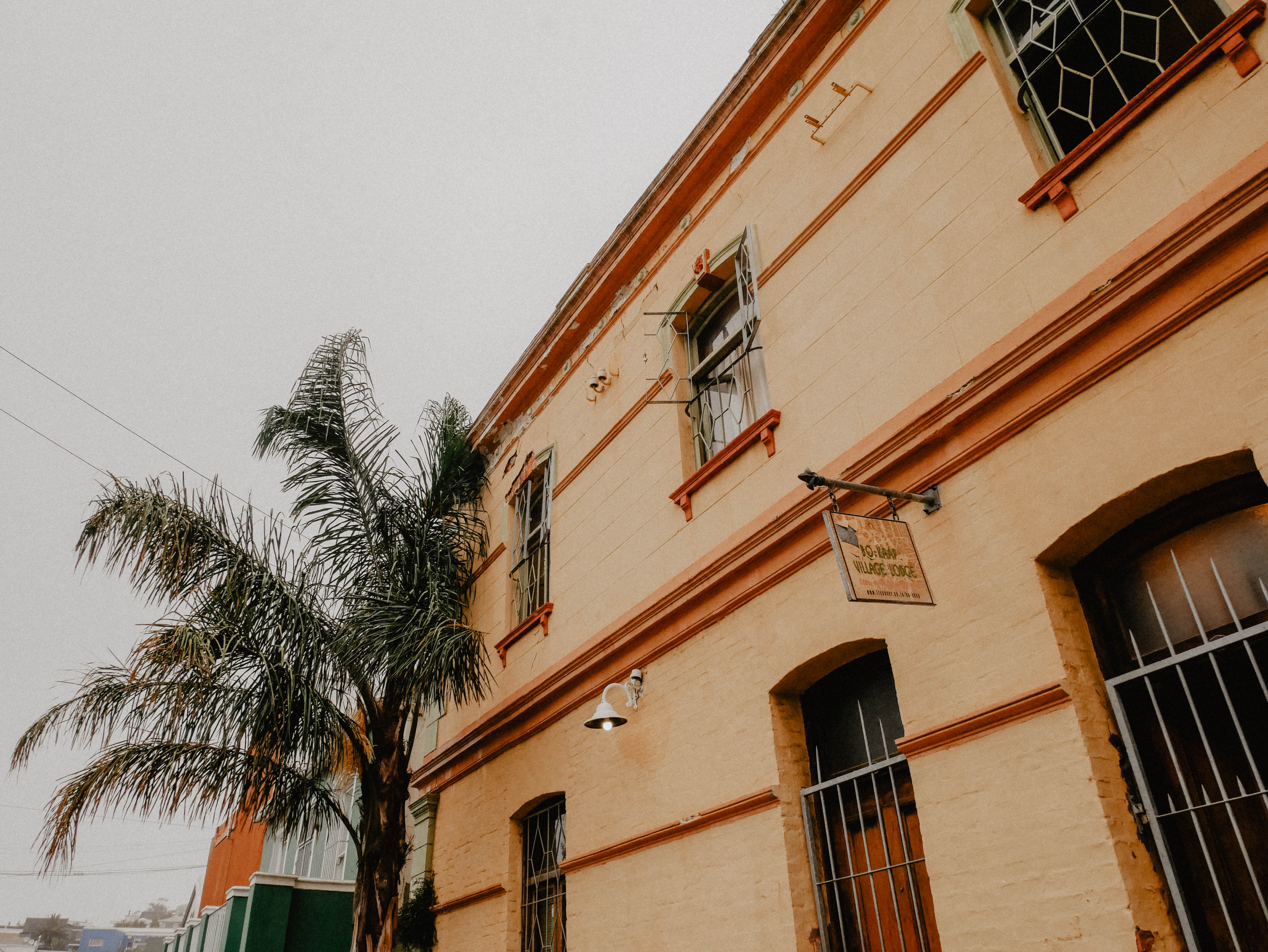 We decided to do the Apartheid to Freedom tour. An absolutely essential look into the devastating history that not only existed in this city, but across South Africa. If you are going to visit Cape Town for all its beauty in landscape, food and good wine then it's important you also learn about institutionalised racial segregation that continued until 1990. The harrowing effects are still apparent across Cape Town today.  The tours are informative and don't cost a penny so make sure to tip your guide. In hindsight of doing this tour on the final morning of our trip, I'd recommend doing one of these tours at the start of your visit to Cape Town to educate yourself on the city and the wider issues that exist here.
Honest Chocolate
Another coffee stop to avoid the rain. And one we were extremely glad we found. Honest Chocolate is a cute little coffee and chocolate shop. I had the chocolate cake but could quite easily have eaten one of everything they were selling. The mocha coffees here are also divine.
Hike up Lion's head
Two hours before we were due to fly home the clouds finally lifted and the sun appeared. What better way to end the trip than with a hike up Lion's Head. This is my all time favourite hike. It was actually more of a run up it than a steady climb as we had a plane to catch back to London.
Thanks for reading! If you enjoyed please subscribe to my blog for more travel updates.
Also you can follow me on Instagram here.
Cape Town Video:
Pin Me For Later: