If I had a bitcoin for every time somebody said you 'MUST visit Koh Tao', or it's the 'BEST island in Thailand', then I'd be rich in crypto currency, handing in my notice and packing my bags for a life in Bali right about now. Everyone urges you to visit Koh Tao but so far, nobody has really been able to fully articulate why exactly Koh Tao is the jewel in the crown of the Thai islands. Here is my attempt to do just that….
Arriving from Samui by ferry we disembarked into a hot, humid and chaotic terminal. The jetty was thronging with people and their overflowing traveller rucksacks trying to figure out where their hostels are. In a sea of signs we clocked Palm Leaf Resort and our Tuk Tuk driver patiently waiting amongst the chaos. As the bustling terminal faded into the distance an overwhelming sense of calm descended upon us as we weaved our way through island traffic (2 x mopeds and a free range chicken) and headed to our little slice of paradise for the next few days.
Stay: Palm Leaf Resort
Located at the North end of Sairee beach, Palm Leaf Resort is a collection of quaint wooden huts built on the sand, and quite literally a stones throw from the ocean. We opted for the sea view beach hut as waking up listening to the morning waves gently lap the shoreline has always been a dream of mine. For only £99 per night, this dream became a glorious reality. Life moves at a slower pace in Koh Tao, our days began with morning coffees on the deck, soothed by the cool breeze and calm sway of palm leaf overhead. Breakfast was just as much a laid back affair, with a short beach stroll along to an abundance of cafes and restaurants in the busier part of Sairee.
[Sairee Beach]
Food/Drink

Breakfast: always at Black Garlic. Amazing coffee, smoothies and a variety of fresh and healthy options for breakfast. Not to mention, free and fast wifi. Even though Koh Tao has a real laid back island vibe, don't be fooled as it works just as well for the tech savvy crowds. This place is fast forward and switched on.
[Black Garlic Restaurant]
Our days were consumed with where to eat and drink. It's difficult when you visit a place with more recommendations than you have allocated meal times for. One thing for sure is you are not to miss Su Chilli. We actually dined there twice because the fresh prawn and mint spring rolls became a slight obsession. The rustic open fronted restaurant with laminated pictures of food at their door shouldn't put you off. I'm telling you now GO TO SU CHILLI! The food is fresh, delicious and will not leave you feeling overeaten. The price is also remarkably cheap.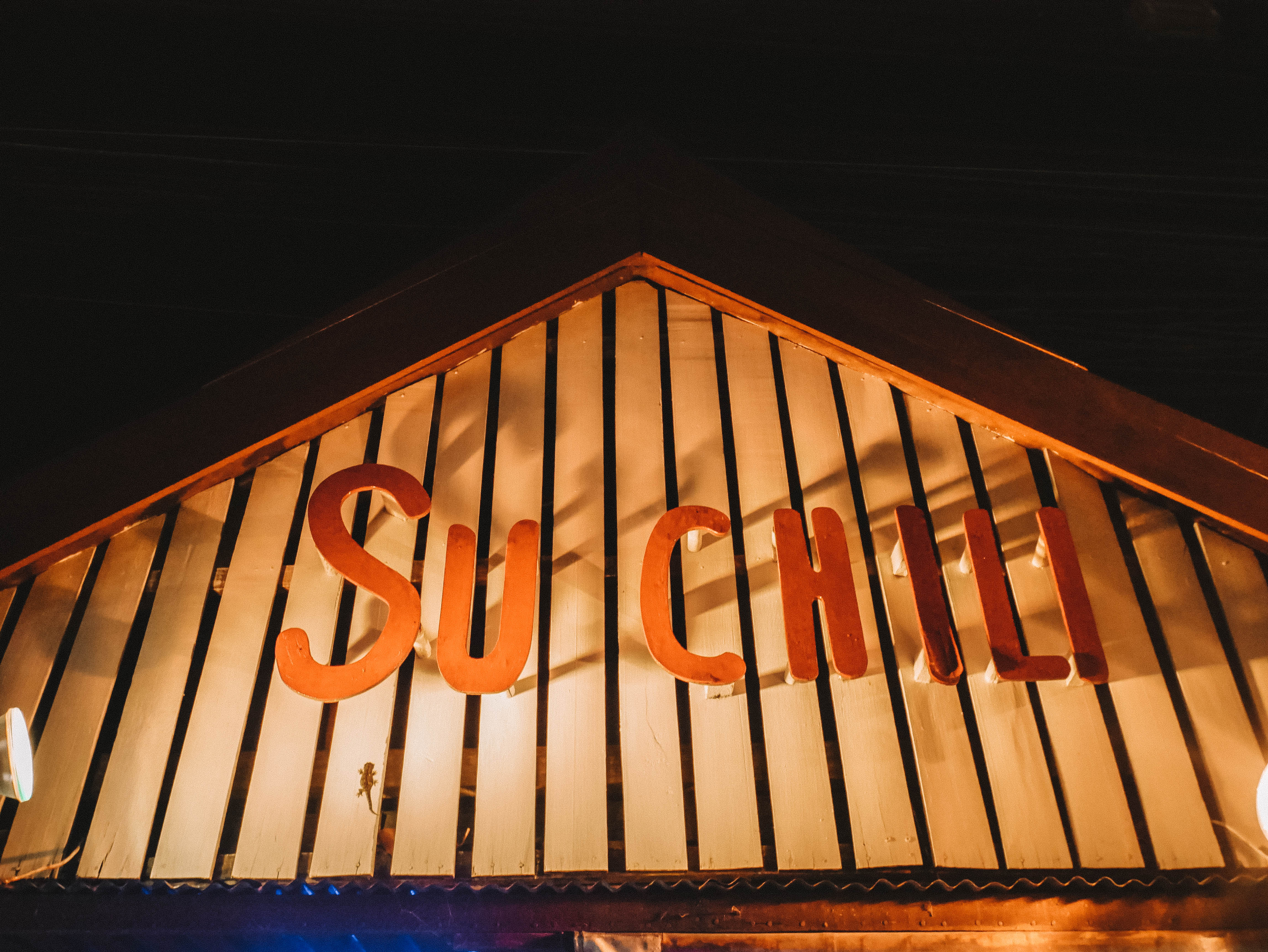 If you want somewhere a little more upmarket try The Gallery.
[The Gallery Restaurant]
Diver and photographer, Chris, runs the restaurant/gallery with his wife, who also happens to be the head chef. This truly is a match made in heaven. The Gallery was hands down the most delicious Thai food we have ever tried. The quality of the food is exceptional and the combination of flavours are perfection. We ordered fresh shrimp spring rolls in rice paper, chicken satay with grandma's secret sauce, shrimp pad Thai and vegetable Panang curry. The restaurant is attached to a gallery filled with stunning shots of the incredible marine life in Koh Tao. So, grab your glass of wine from the restaurant and have a wander round admiring some of the most beautiful dive photos.
[The Gallery Restaurant]
For a good lunch on Sairee Beach go to Blue Water Cafe. Rustic yet minimalist and chic. Serves up great coffee – try their cold brew if the heat is too much for you. It's great and comes with a wedge of orange – weird yet wonderful. Or keep it simple and sip on a coconut. They have both western and thai options on the menu. If you head there a little later in the afternoon you'll catch the sunset crowds and live dj set.
[Blue Water Cafe]
Another great sunset bar on the beach is Fizz. Grab a beer and ease yourself into a beanbag watching the famous Koh Tao sunset. Mellow house beats from their resident dj complete this experience.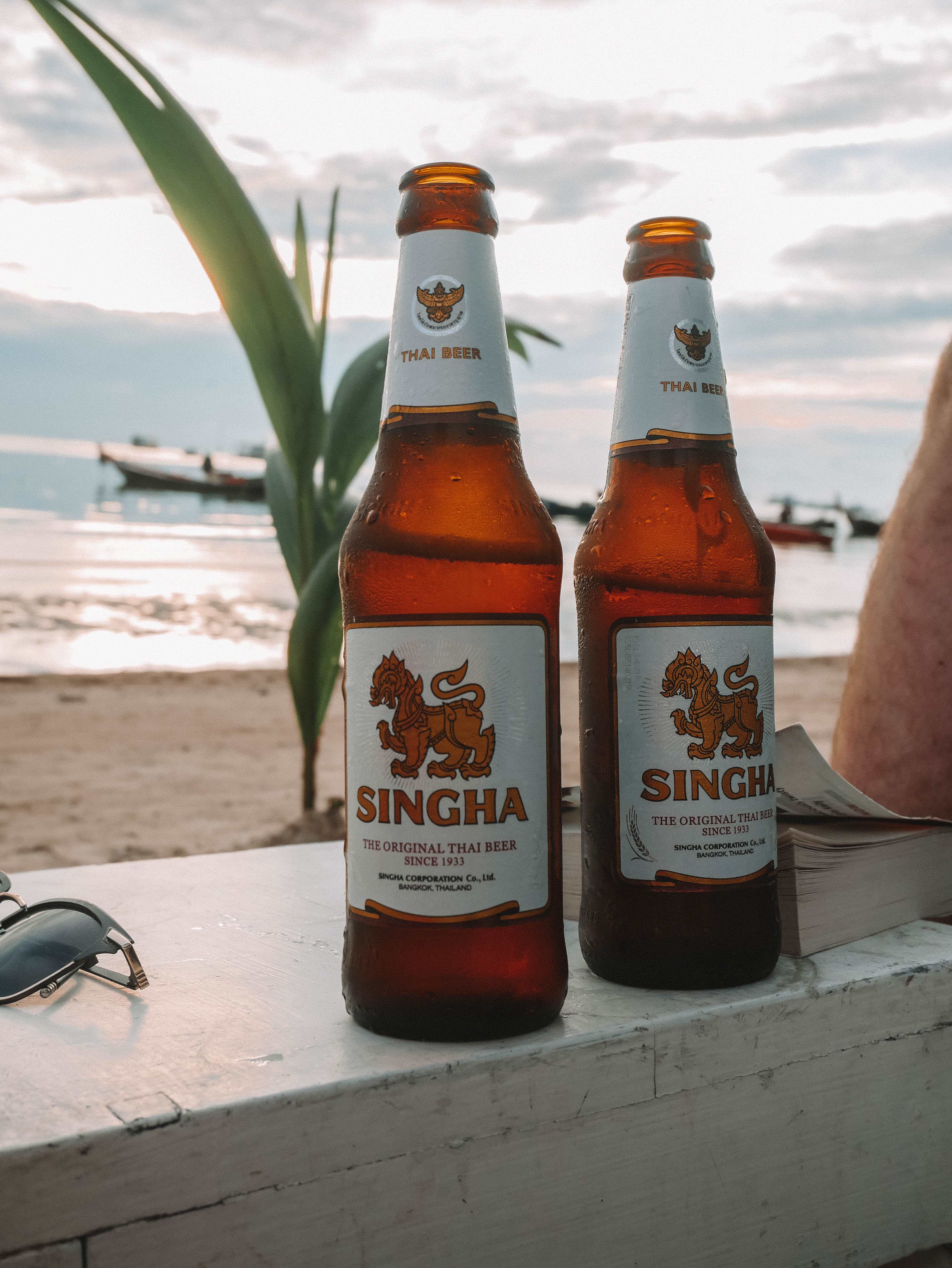 Do:
[Nang Yuan Island viewpoint]
Koh Tao is famous for its magical dive spots, and there are numerous dive schools located along the beach. Yet if diving isn't your thing then there's plenty to see at snorkelling level in the waters too. We hired a private long tail boat for the day to take us around the island. X marked the spot at Mango Bay, Shark Bay and Nang Yuan island. We saw sharks and fish. The cost set us back about £50 for the day which to have our own private boat was a bargain. Sairee beach is filled with taxi boats so this is something you don't need to pre book.
[Nang Yuan Island]
[Mango Bay]
[Shark Bay]
Getting There:
Ferry:
Lomphraya ferry – reliable, good value and swift quick check in and departures. Note: checked bags are all stored at the front of the boat away from passenger's seats so keep all your valuables in your carry on bags.
Having left Koh Tao and looking back on people's recommendations of Koh Tao, I now understand why they aren't quite able to put their finger on why it's so great. Not much happens here. It's more the laidback lifestyle and like minded community that people long for when they depart the island.
PIN ME FOR LATER!
Watch the KOH TAO 48 hour vlog here.