With the record breaking temperatures this summer in the UK you don't have to travel overseas for a glorious beach day. Whitstable was the obvious choice when plotting our escape from the London hot pot. Ticking all our British Summertime boxes – local fresh oysters? Fish and chips on the beach? Salty sea air and sun drenched beach huts? Tick tick tick!
Naturally our day revolved around food & drink, so if you are likeminded foodies then this is the post for you.
Start your day with a smooth brew at the uber chic Blueprint Artisan Coffee. Here you find mellow yet strong ethically sourced and skilfully roasted coffee – an ideal way to ease you into the day. Part coffee shop / part book shop you can loose yourself in a good book whilst watching the Whitstable world wander by.
Once you have finished your oat milk mocha and have read all about Kimchee, head for the High Street where you find tiny cobbled streets punctuated with an eclectic mix of quaint ice cream shops, boutiques, pet accessory shops, cafes and restaurants. This really is the ultimate seaside chic town.
Nicely propelled by caffeine and ready to see what all the Whitstable fuss is about, its time to see the sea. The main beach is located just behind the High Street where you'll find an abundance of hole in the wall beach bars and oysters shacks, more on them later. It didn't take long to find a place on the pebbles to enjoy the freshly fried fish and chips whilst looking out into the hazy summer horizon. It doesn't get more British then that.
[ Dress: Zara / Bag: Primark ]
Basking in weather that felt more like Whitsundays, Australia than Whitstable, UK. After a few hours lazing on the beach we decided it was time to tick off another eatery on our list – this time, Oysters! The Forge is located right on the beach where you watch the skilled crew shuck oysters right in front of you. All oysters sold at the famous old shack are local to Whitstable and grown on nearby sea beds. If oysters are your thang, then this is not to be missed – but hurry the best ones sell out quick.
If you're in the market for a drink then look no further than the UK's only pub on the beach, The Old Neptune. This weathered old pub is an ideal place to enjoy golden hour in this beautiful weather.
After another couple of hours on the beach (i really meant it when I said this is a lazy foodies guide to Whitstable) it was dinnertime. Not wanting to venture too far we opted for The Whitstable Oyster Company restaurant. Cute red checkered tables and shiplapped walls give this restaurant a real seaside feel. The fish restaurant has a daily changing menu of local catches. We opted for oysters once again, washed down with bloody marys. Mains were moules-frites with local heritage tomato salad on the side and a glass of rosé to finish it off. Everything was so fresh and delicious.
If you decide to make this day trip into a sleepover, be sure to check out the Fishermans Huts located right on the beach that are available for as little as £55 per night.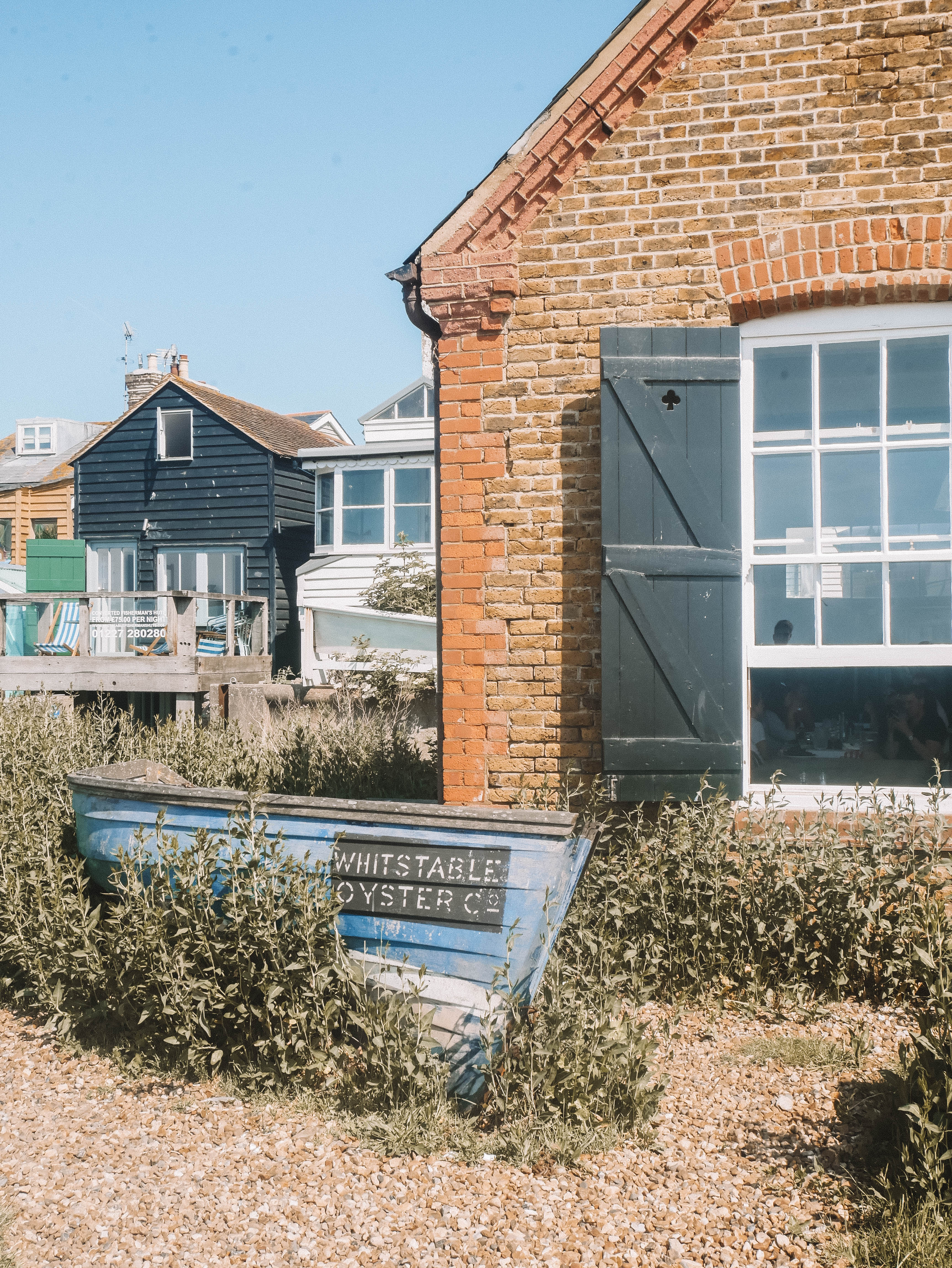 It's no surprise this quintessentially British seaside town was heaving when we visited. So get there early to avoid queuing for the very few number of central carparks. Alternatively, you can take the train from London in under and hour and half from St. Pancras and London Victoria stations.
Watch the video of our day in Whitstable here.
Pin this article for later!
Watch our Whitstable video here.