A year after moving in to our house it was finally time we paid some attention to our ever so slightly neglected bedroom. The emergency "paint everything white" phase was over a week in to settling into our new abode and ever since it has lacked attention and thought. It's very easy to sit up in bed, coffee in hand and pick apart everything that's wrong with the room, however it's slightly more difficult to be able to pin point how to "fix" the problems. I'd bought the lampshade I adored, the brass curtain rail was exactly the one I wanted and I'd finally gotten the bedding I'd dreamed of after months of eyeing it up in the West Elm window. It was then I began to realise that home interiors and styling is such a science. There is definitely a formula to it and you can't just put objects you like in a room and expect it to look like the masterpiece you expected it to be. In this post I'm sharing my tips on how to create the perfect minimalist yet cosy bedroom.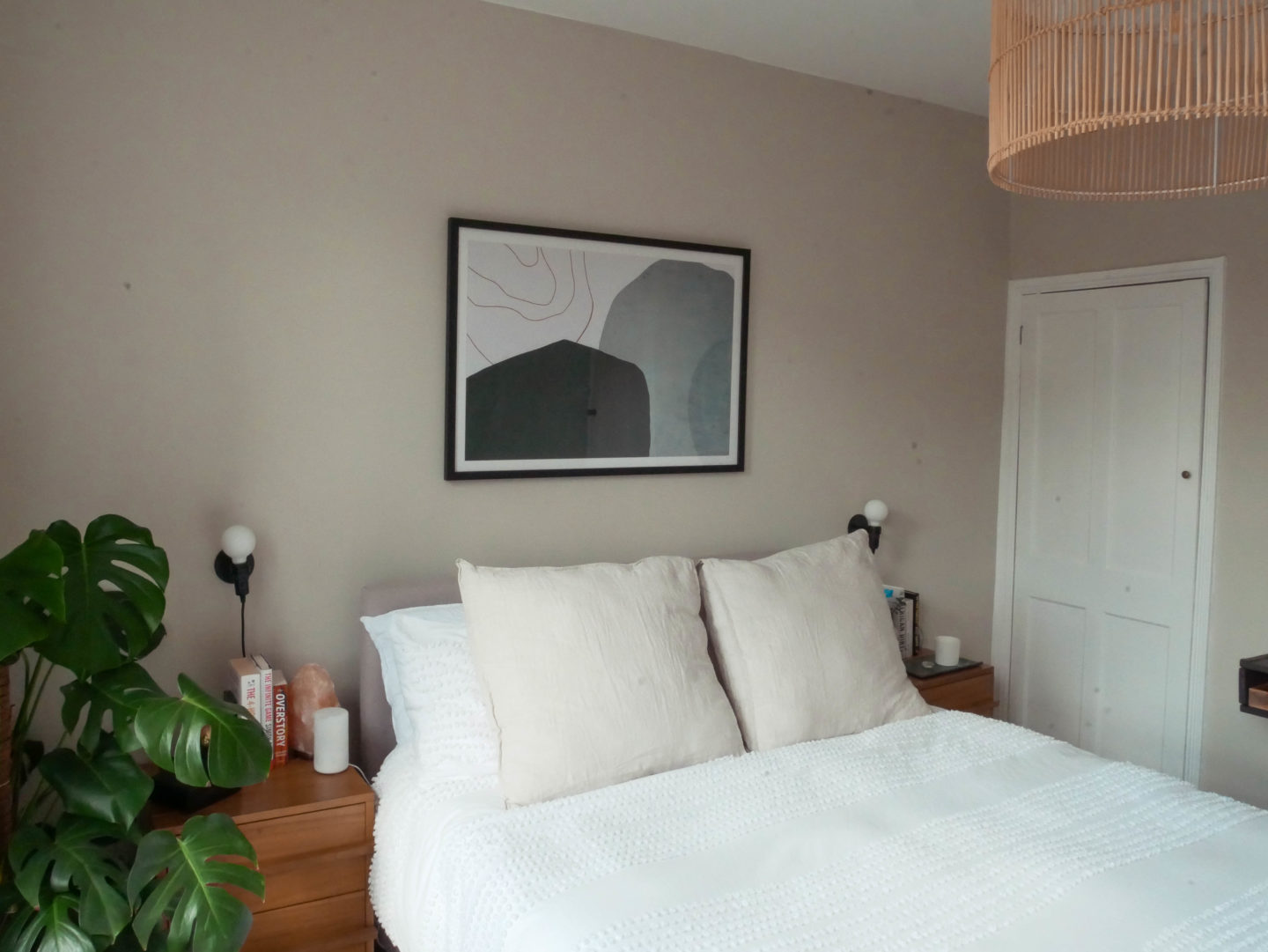 1. MOODBOARD:
Creating a moodboard is a brilliant way to be able to see what the finished room will look like. You can easily swap in different colours, fabrics and pieces of furniture until you're fully happy with the vision. I spent weeks slowly adding to the moodboard when I saw a piece I thought might work in the room. I then narrowed down my options and had two mood boards and pinged different products between the two. Here are the two final mood boards I created, with an ever so slight different look between the two. I created these mood boards on Apple Pages however Canva is a great free website to create your own moodboards.
2. COLOUR PALETTE
Pinterest and interiors blogs are a great place to get inspiration for colour palettes. By admiring other people's bedrooms I quickly realised ours lacked colour. I like a light and airy, minimalist bedroom. However that doesn't mean you can't experiment with colour. It was then I stood back and realised the white bedding, white walls and white curtains were just too.. drumroll please… WHITE! Yes I realise how ridiculous that sounds, but when you don't have time, money or experience with interiors white always seems like the safe answer. I started looking at neutral and natural tones and after much deliberation decided to go with Farrow and Ball "Shaded White". Not too warm, not too cold. It's neutral and soft and was the perfect shade for our room. Yes, when I said experiment with colour i literally meant an off white shade. All of a sudden my brass curtain rail, bamboo lampshade and linen white curtains worked perfectly in the room whereas before they seemed like objects in a room. The neutral paint colour just lets the details both pop and blend into the background at the same time.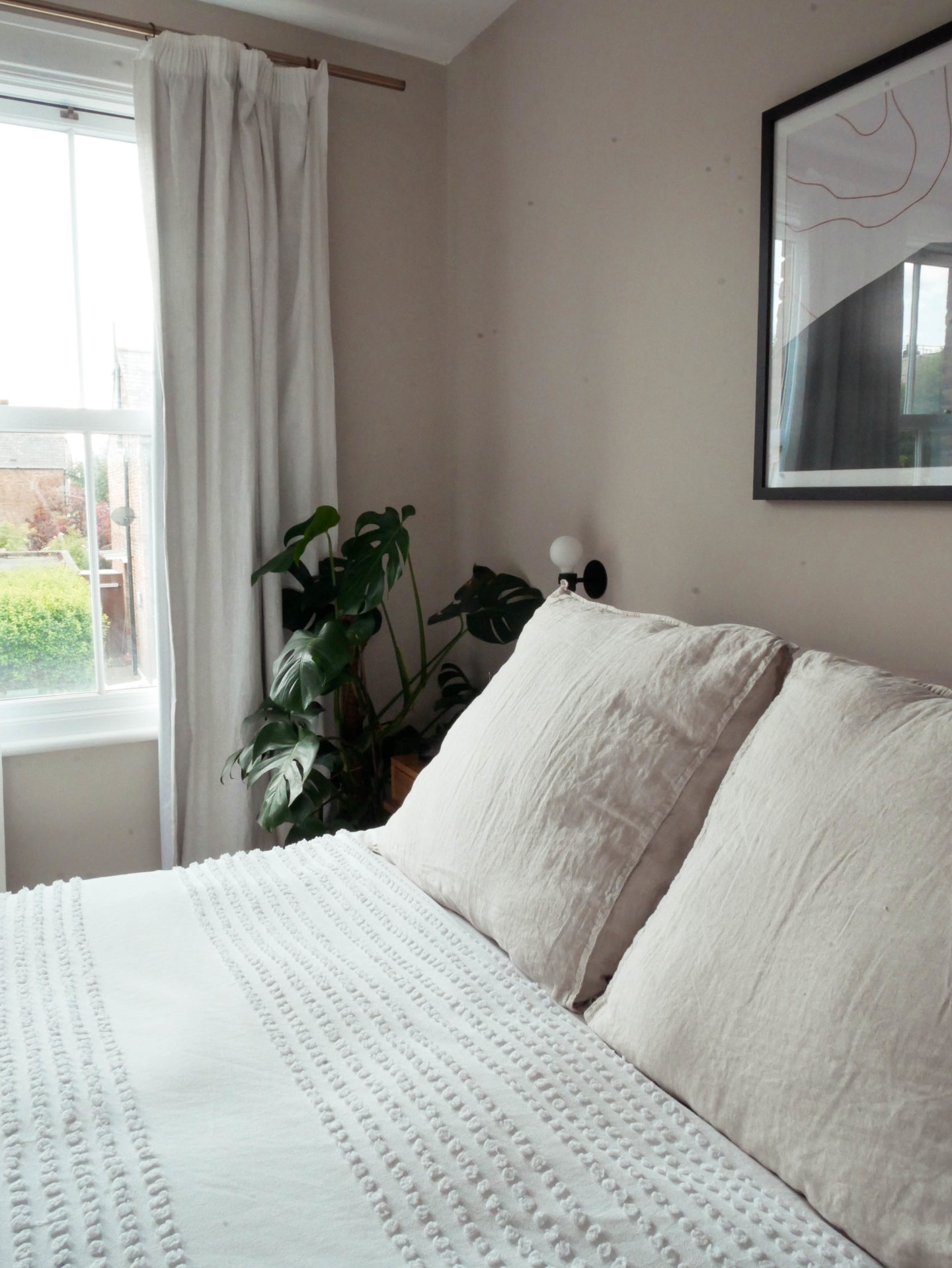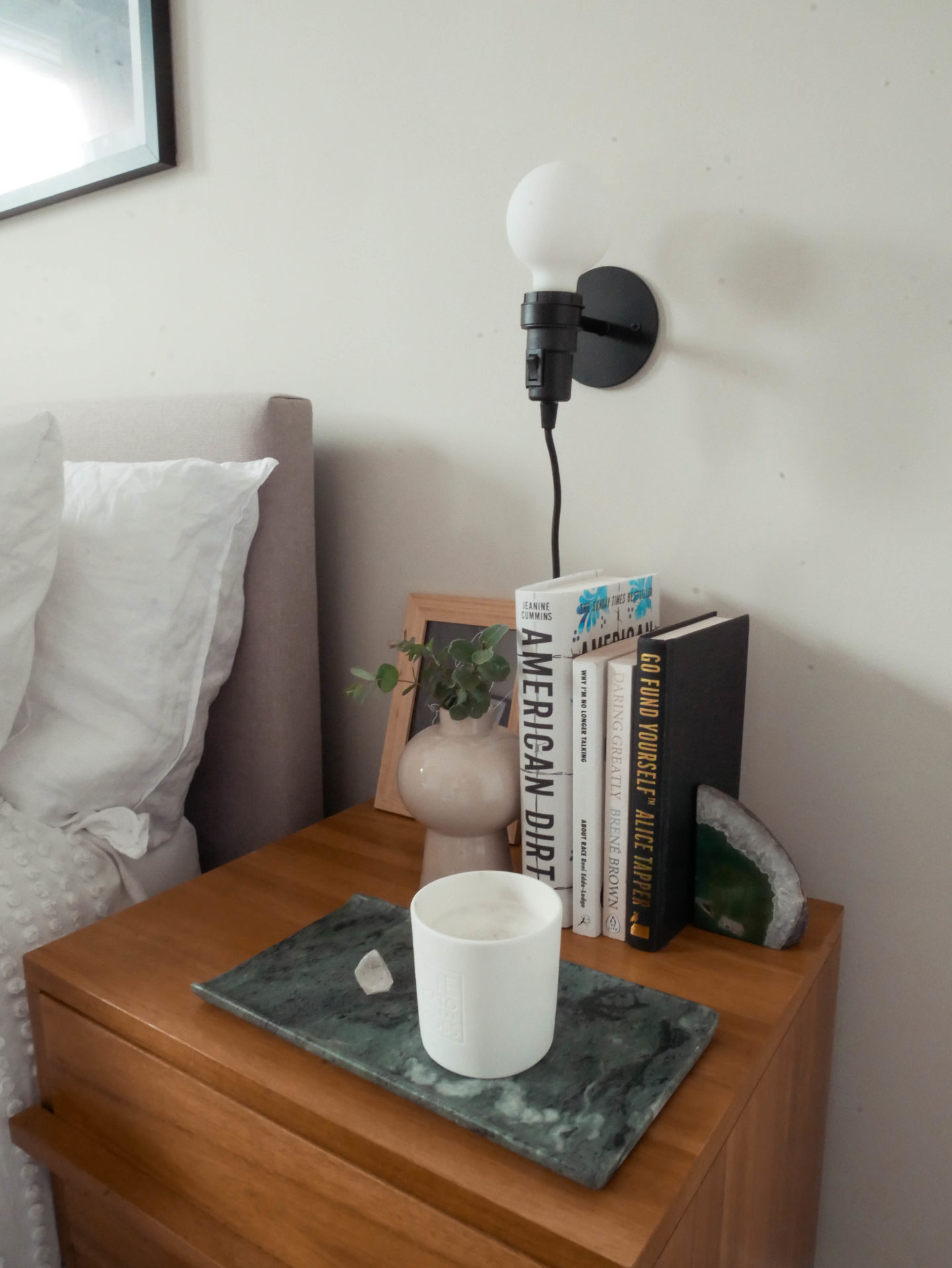 3. ARTWORK
Your artwork has to work with the room. A print too small or too big will either just exist on the wall or completely dominate the room. To get it right pick a size that fits with other pieces of furniture, pick a frame colour that works well with other accent colours in the room, and most importantly pick a print that complements the rest of the colour scheme and theme of the room. The print above our bed is "Interplay" from Juniqe. It's mounted and framed ready to hang. We chose a black wooden frame which works with our matte black bedside lights. The print colours feature our accent green colour and the minimalist abstract design is calming. (I was gifted this print as part of a previous collaboration.) The abstract Cactus print is also Juniqe.
4. FUNCTIONAL SPACE (without overcrowding)
Your bedroom has to be functional and useable space. There's no point having a gorgeous arm chair in the corner of your bedroom yet your closet is in the hallway. The bed should be the main feature of the room and anything else is additional. If you have the luxury of a good sized double bedroom then make sure there is enough space either side of the bed. Centring the bed on a wall will give the room a feeling of balance. We upgraded our bedside tables for efficient storage and moved out a large dressing table and replaced it with a chest of drawers. There was still space for a more slimline dressing table. The room has functionality, yet the matching bedside tables and centred bed mean it feels balanced and spacious.
5. SET A BUDGET
Budgets can get severely carried away when you're creating a dream space. Set yourself a spend limit and reign it in where you can. Prioritise what you absolutely MUST have and need, and then it's time to get creative with what you can make yourself.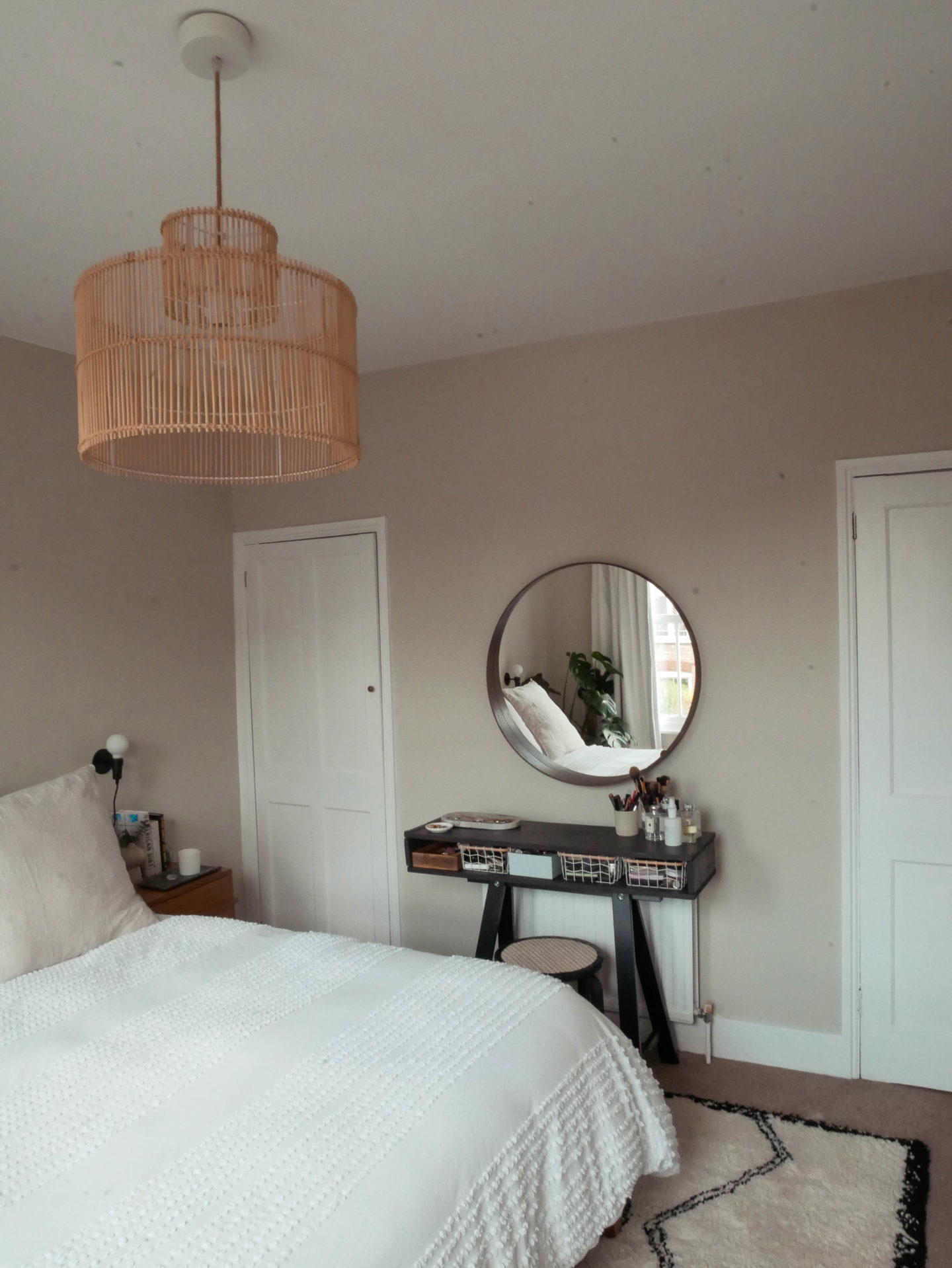 6. DIY
Once the budget has all been allocated on those must have items it's time to start looking around and seeing what you can make yourself. My two favourite things about DIY products are 1. They're usually way cheaper than buying the item outright and 2. They're so unique! No one else has that piece of furniture you have because YOU made it and it has a story behind it. There's nothing more feel good than appreciating your own hard work. By upcycling this £10 Ikea stool and building a dressing table from my neighbours discarded old floor boards saved me £££ and I am in love with the end result! Some cane webbing from Etsy, a rubber ring from eBay and an unused stool I found in our under stairs cupboard really is the glow up of the month over here. Click here for the DIY tutorials. It ain't much but it's honest work folks! If you'd rather pass on the DIY, this is the stool I copied.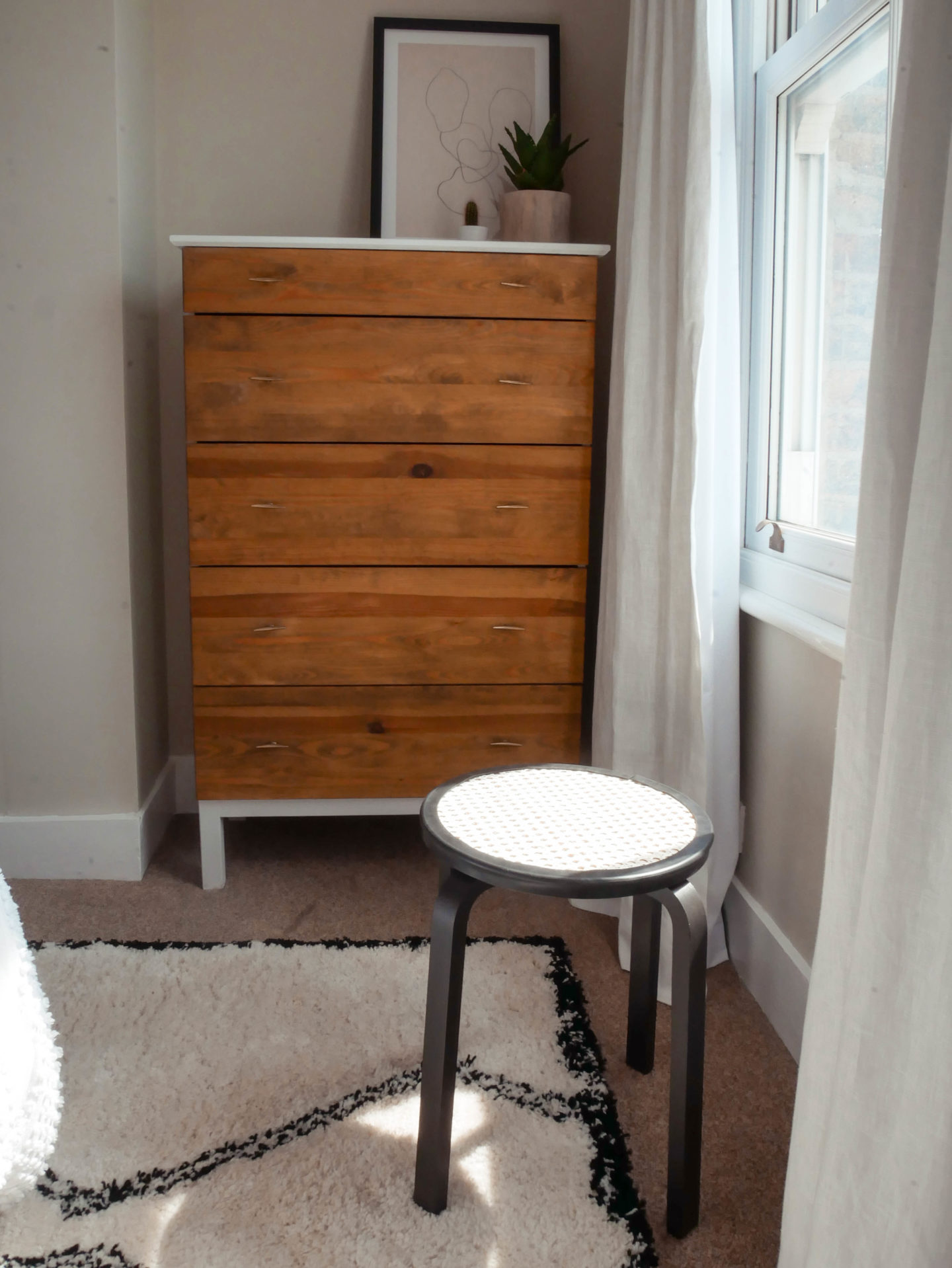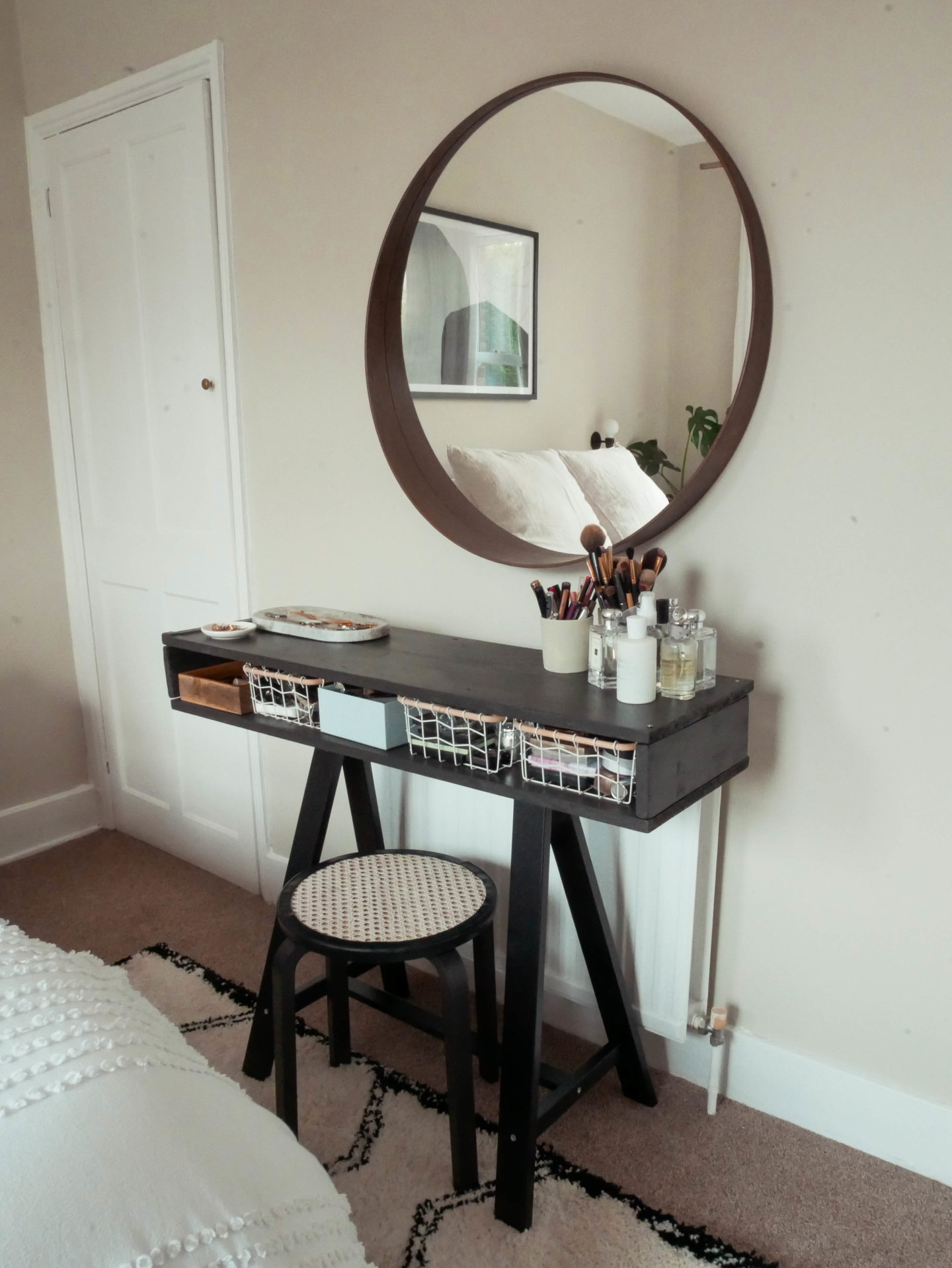 7. SOFT FURNISHINGS:
If your room feels a little bare add a few more cushions, a throw or perhaps a rug to the room. Go for soft, cosy fabrics and neutral tones. Large linen square pillowcases from La Redoute make a statement but also don't dominate the bed. The Berber style rug adds a simple pattern to the room and feels ultra plush under your feet. A textured white bedspread like this one from West Elm adds an interesting detail to the room but remains simple and minimalist.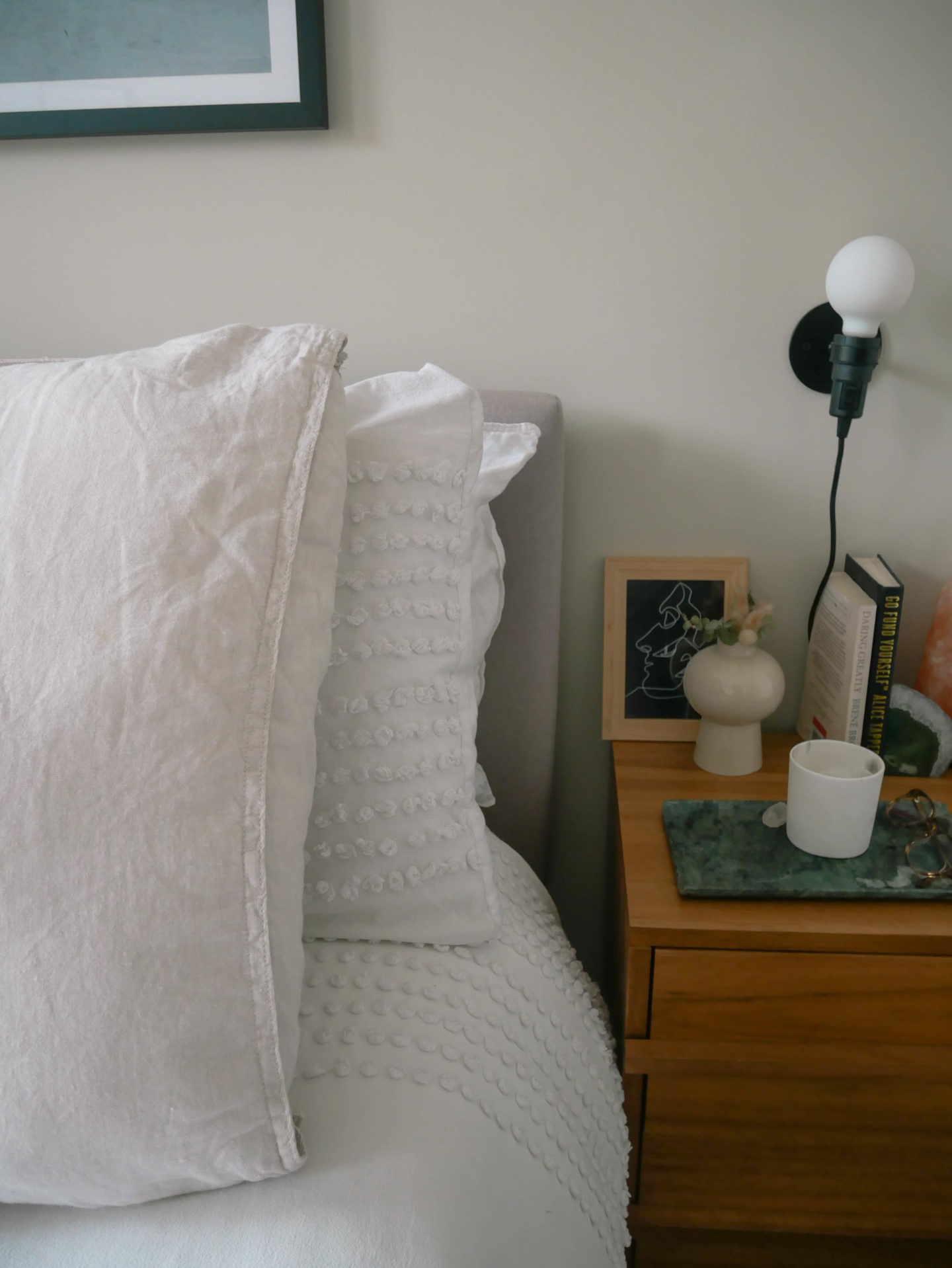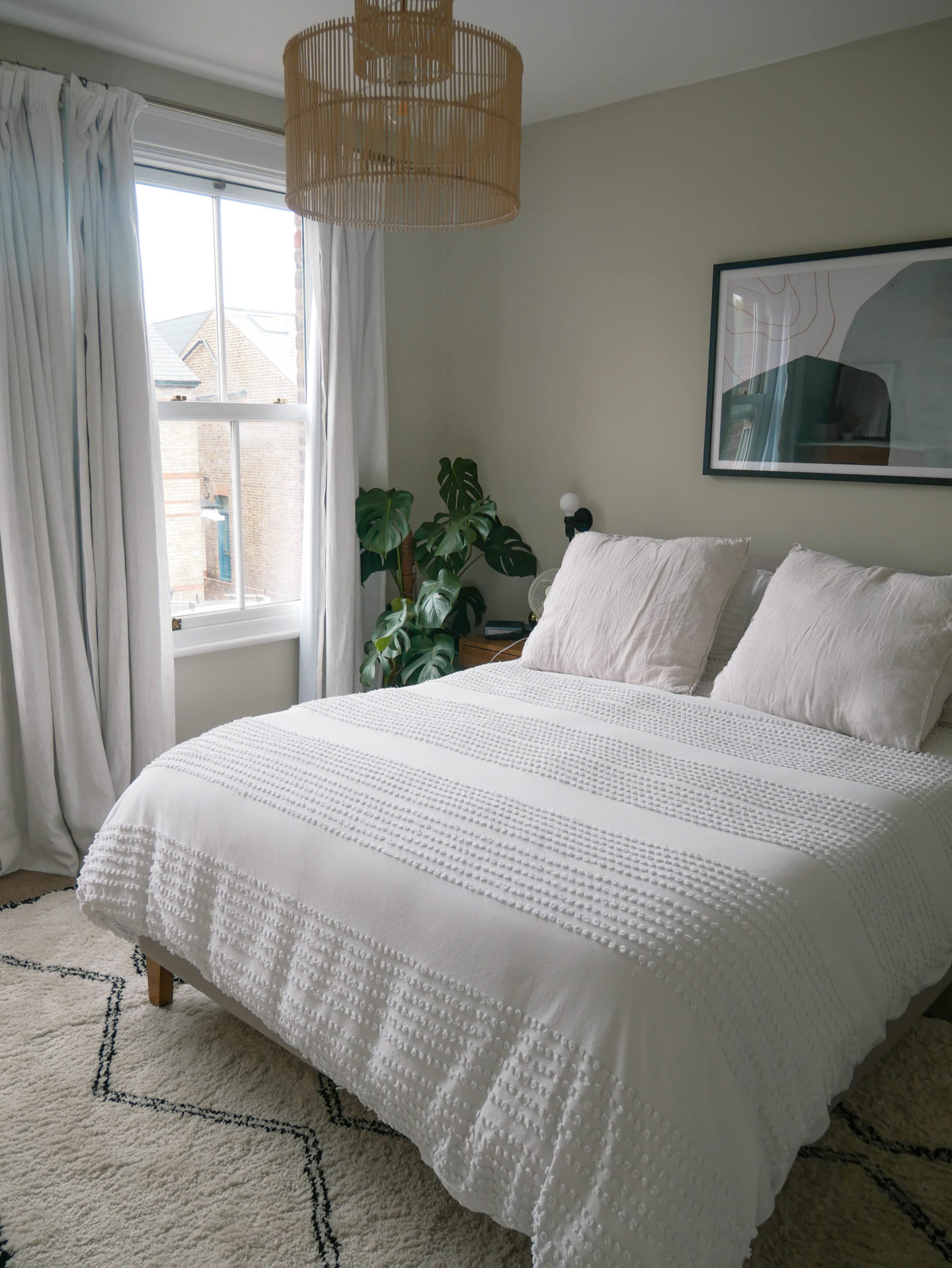 8. SANCTUARY
Your bedroom should be your sanctuary. A serene space that when you close the door you can close out the rest of the world. First up you need to remove anything that might be cluttering the room. The less objects and distractions in the room the better. Next up a neutral colour palette is always more calming, slight pops of colour can also feel peaceful too, but we went for neutral tones with just the greenery from plants giving us a pop of colour. Pick a scent for your room for how you want the room to feel. We have the Jo Malone green tomato candle in our room. It's fresh and clean but not sweet smelling. It's the perfect scent to emulate the colour palette and feel of our bedroom.
9. ADD PLANTS
If you want your room to feel zen then start with adding clean air and life into the room. Plants not only look utterly beautiful but they clean the air for you. A low maintenance, easy growing plant is the Monstera.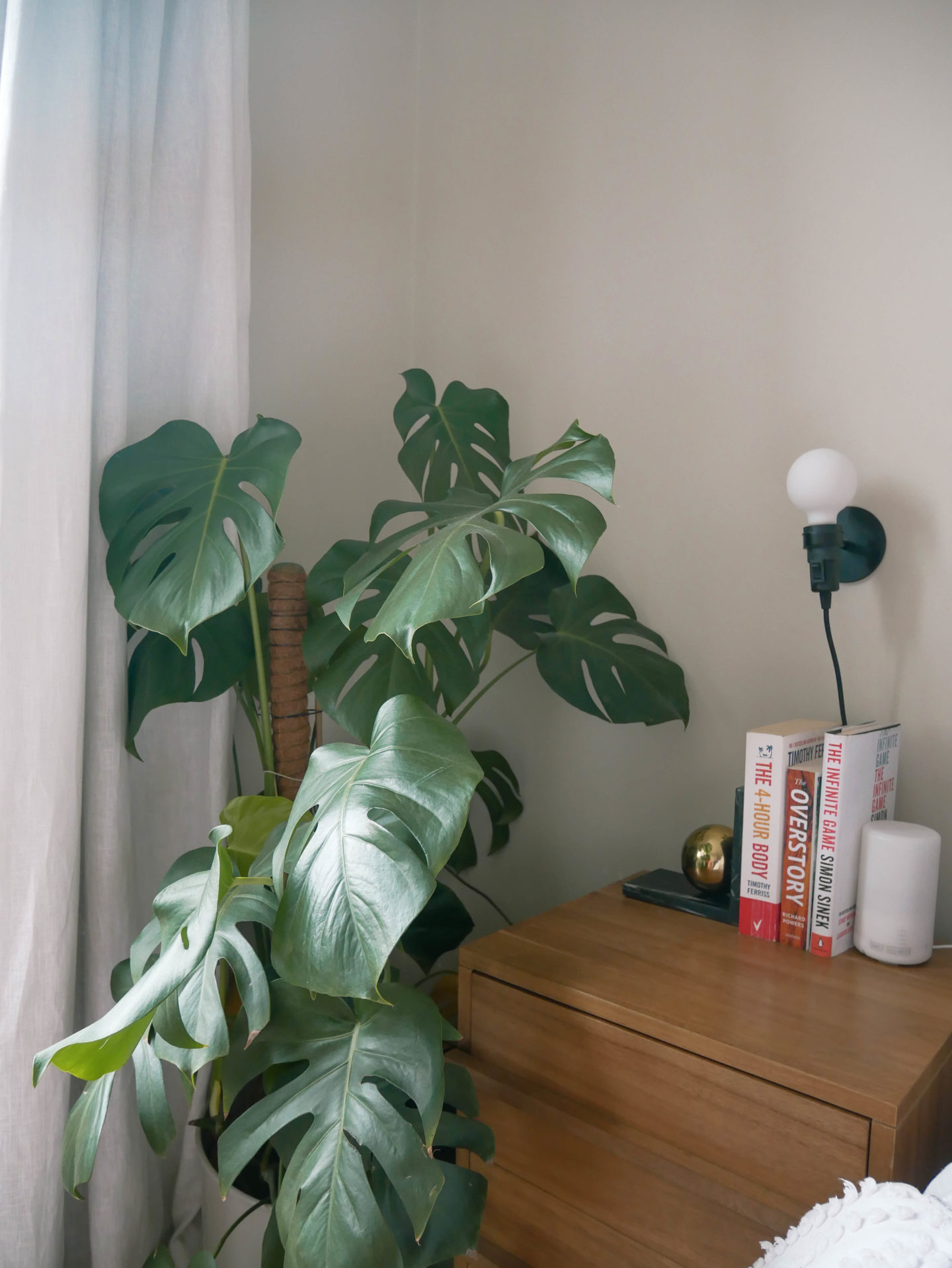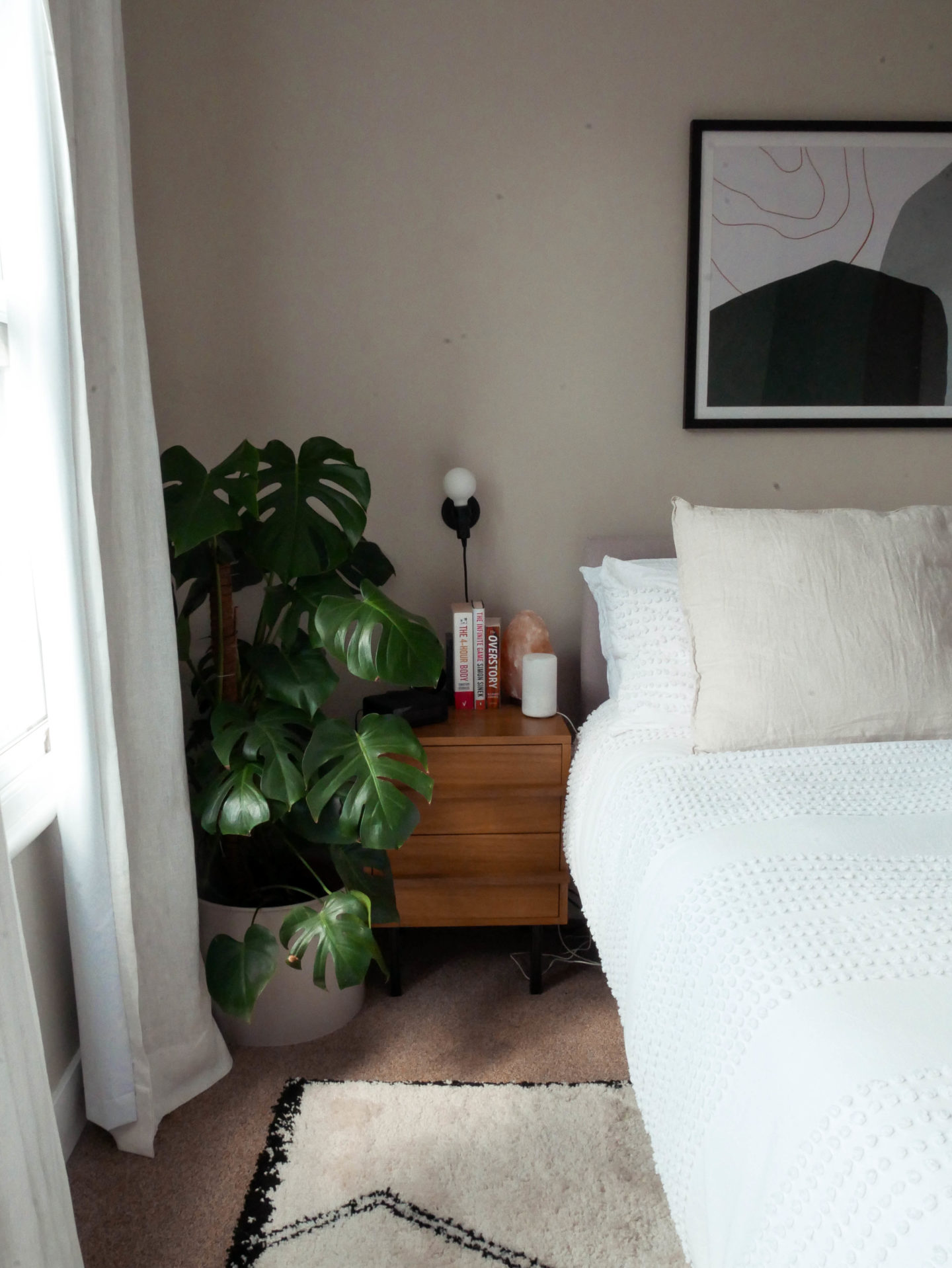 10. LIGHTING:
Last but definitely not least, lighting is SO important in every room. It can absolutely make or break the room and should consider the size of the space you're working with and how much natural light the room gets already. If the room is quite dark you'll want a soft light that can be put on during the day as well. We opted for bedside lights with exposed bulbs so the porcelain effect lightbulbs give of a more dim glow than a halogen bulb. We rarely use the overhead light as bedside lights are way more functional in a bedroom.
Enjoyed this post? Pin me for later!