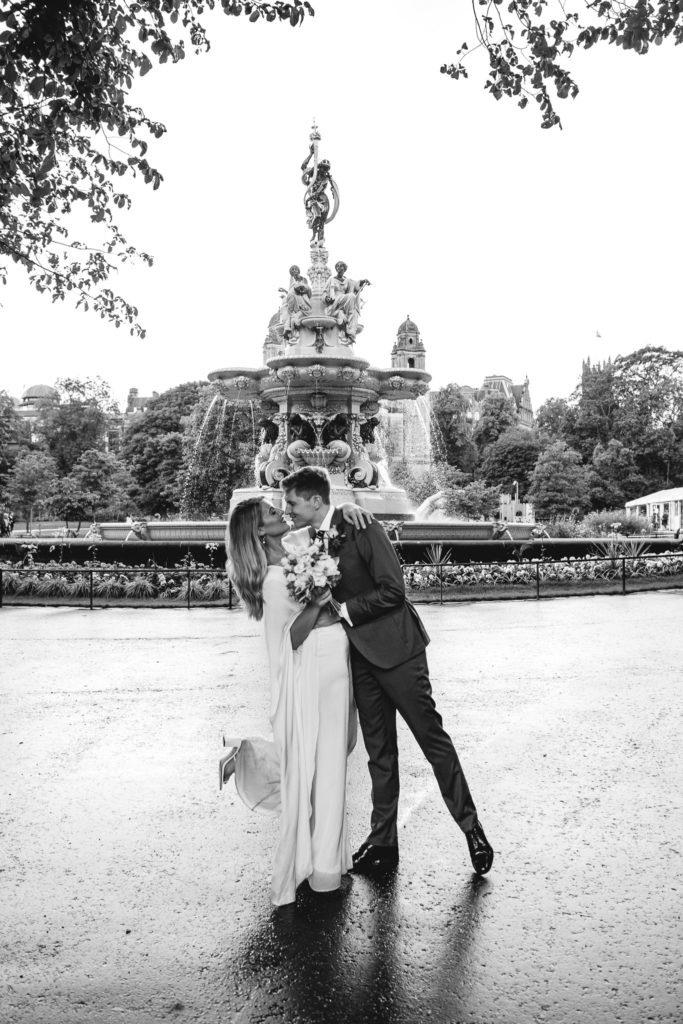 We got married!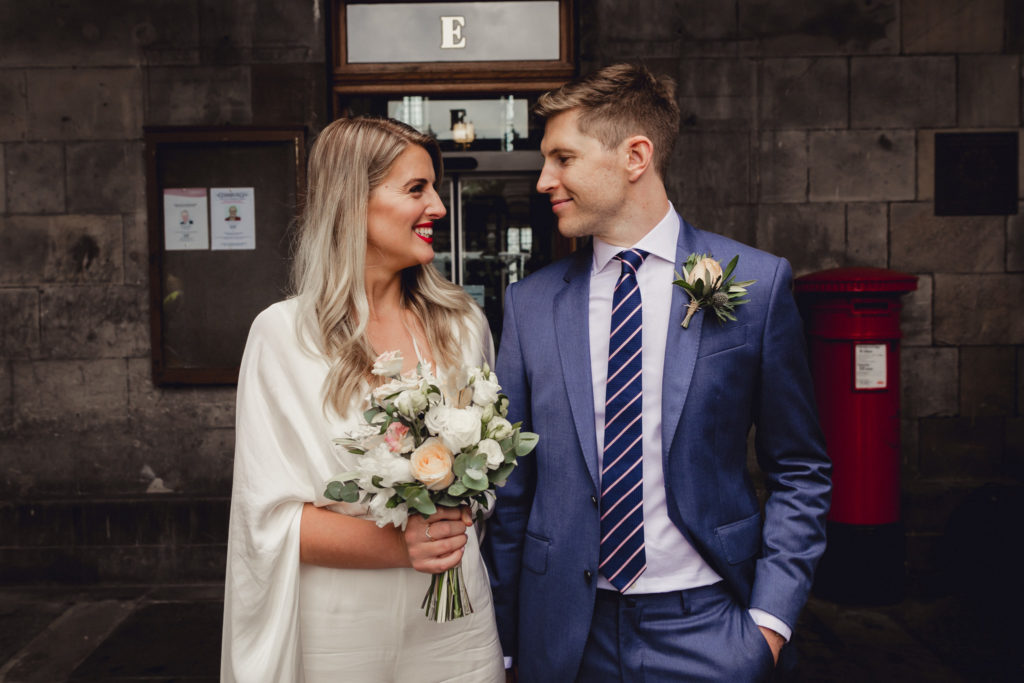 I can't quite believe I am writing these words down. Time seems to have gone at lightning speed since we got engaged ten months ago, and now we are officially and legally married! Thought I'd share a few details and special moments from what was hands down the most special time of our lives.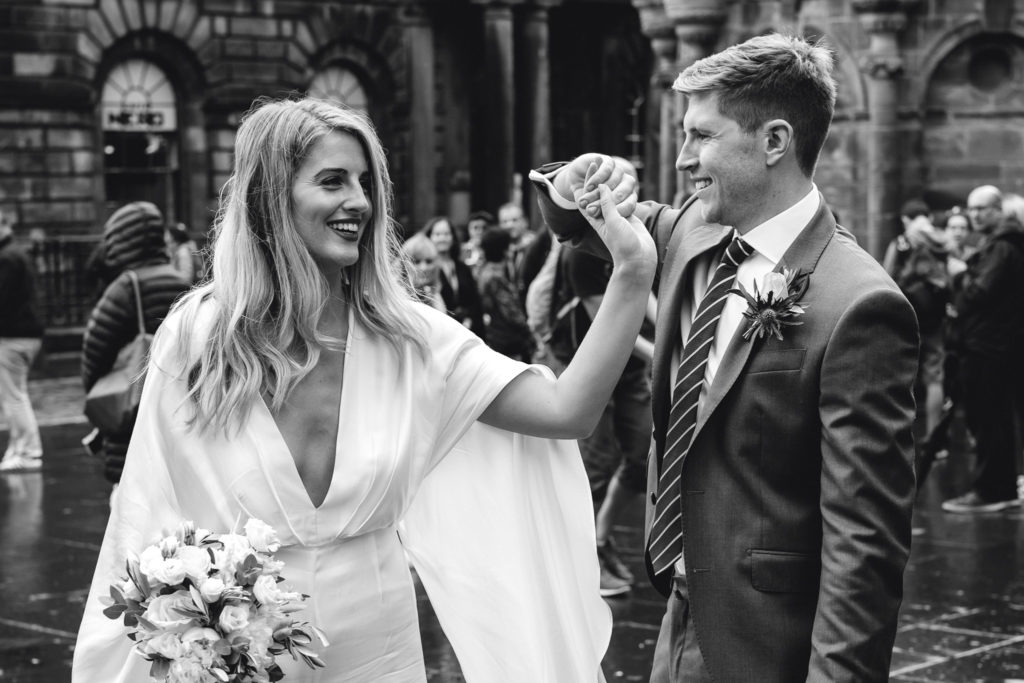 Jumpsuit: Asos
Lipstick: Charlotte Tilbury – Red Carpet Red
Flowers: Mud Urban Flowers
Whilst mulling over where / when we wanted to get married we explored many options. We settled on a gorgeous venue near Freddie's hometown, Chichester. The venue, Duncton Mill Fishery, an outdoors marquee on beautiful grounds by a lake was idyllic and exactly where we wanted to spend our special day with all our favourite people. However, the catch – we can't legally marry in a field that isn't officially licensed. We accepted we'd have to do the legals elsewhere, and saw this as an opportunity to also include my family's home city into our wedding.
Once the seed was planted, the plans grew into a wonderful addition to our main wedding. We decided to keep this part of the wedding personal and immediate family only. That made up 21 of us. Trains, planes and automobiles brought us all to Edinburgh for the weekend of July 20, 2019.
We spent the day before the wedding having a relaxed lunch at my parents house allowing those who hadn't met yet to get more acquainted with the other side of the family.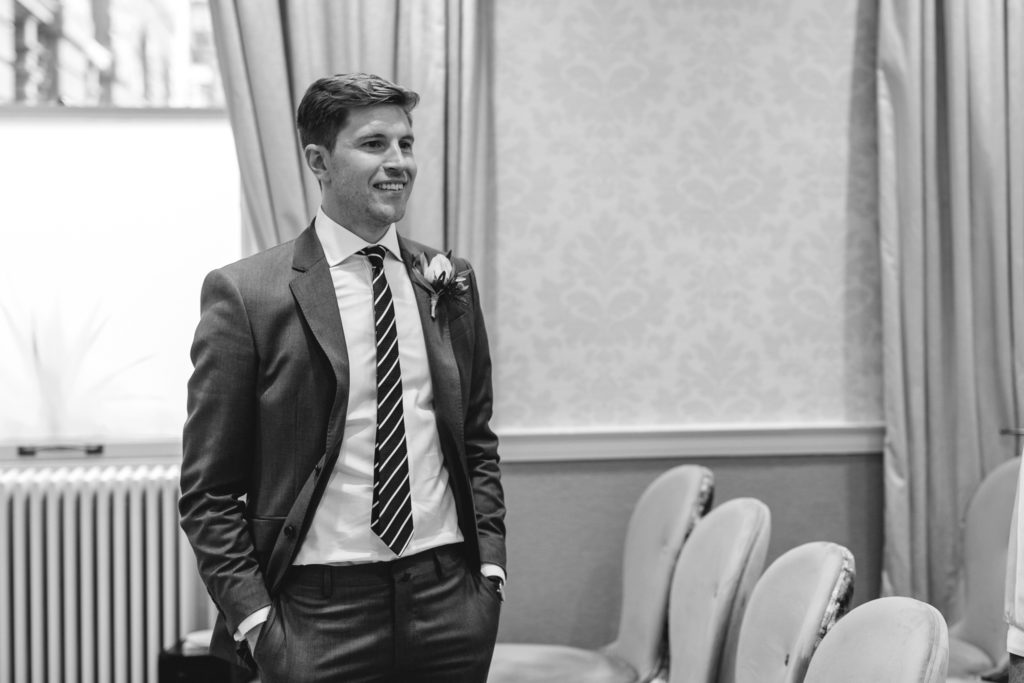 The following day, tensions were a bit higher. Nervousness came from unexpected parties (Freddie) and unexpected efficient time management skills from other parties (yours truly). Both families came together at Edinburgh City Chambers. An atmospheric and stunning venue to marry in, right in the heart of Edinburgh. The buzz was exciting as we walked through the hoards of tourists to get to our venue, yet once we entered the courtyard of the City Chambers an incredible sense of calm and silence descended upon us.
What happened next is now a real blur. It was surreal yet felt completely normal at the same time. I remember walking up the very short registry office aisle and all I could see was Freddie's back to me. To my surprise he turned around before my dad had walked me to the top of the aisle. It took me by surprise and my stomach did what felt like a million somersaults seeing Freddie's face.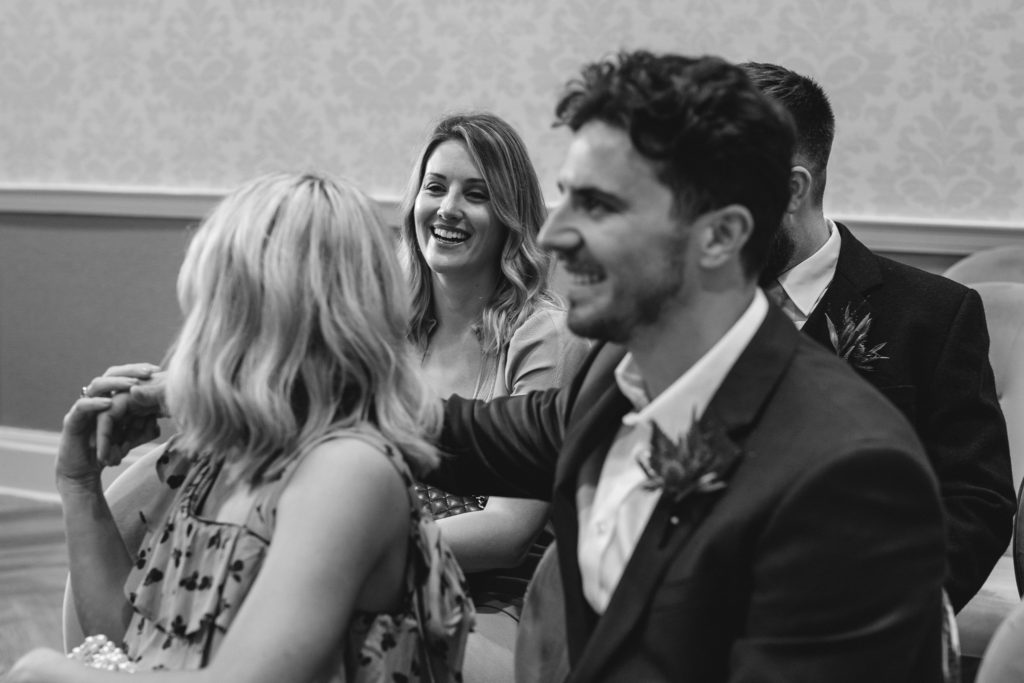 I feel like I saw every emotion on his face in about 0.5 seconds. Not that there was a single doubt beforehand but it really is in that moment when you know it truly is the most right thing in the whole world. It was such a personal moment and I loved that it was shared with our immediate families.
The ceremony was short, we got through the legals and had the option to remove and add in text as we wished. Tailoring a ceremony like this is a wonderful thing, getting to say the words you truly wish to say to each other. Even writing this two weeks after tying the knot, it almost seems like a distant memory I'm trying desperately to grasp on to. It was a blur and whilst felt like it was over so quickly, it really is one of those moments where time stands still.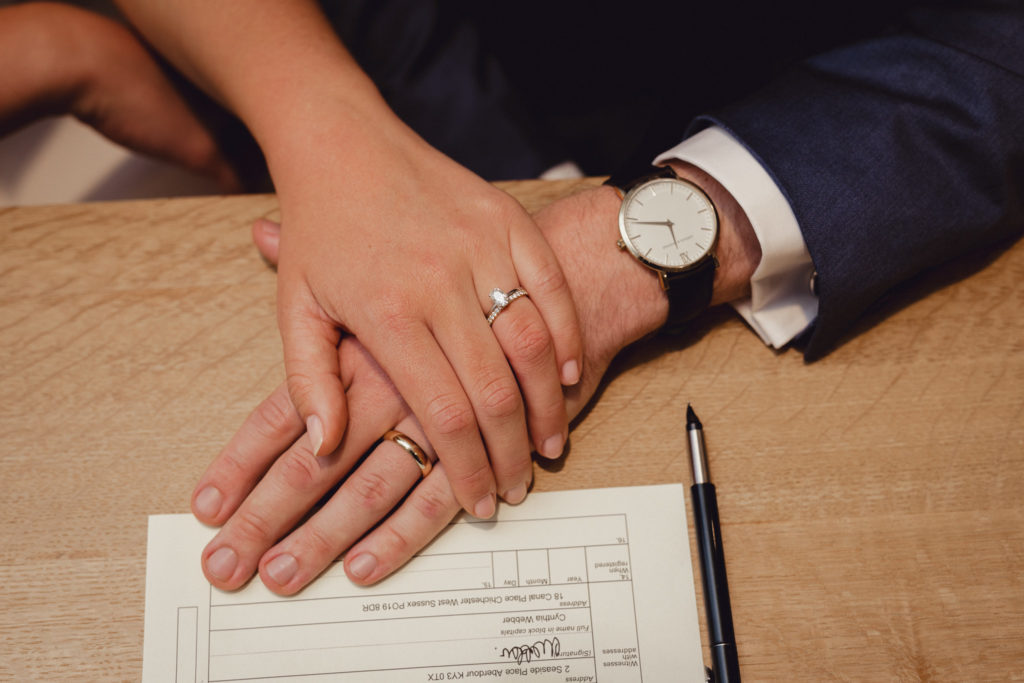 Just married!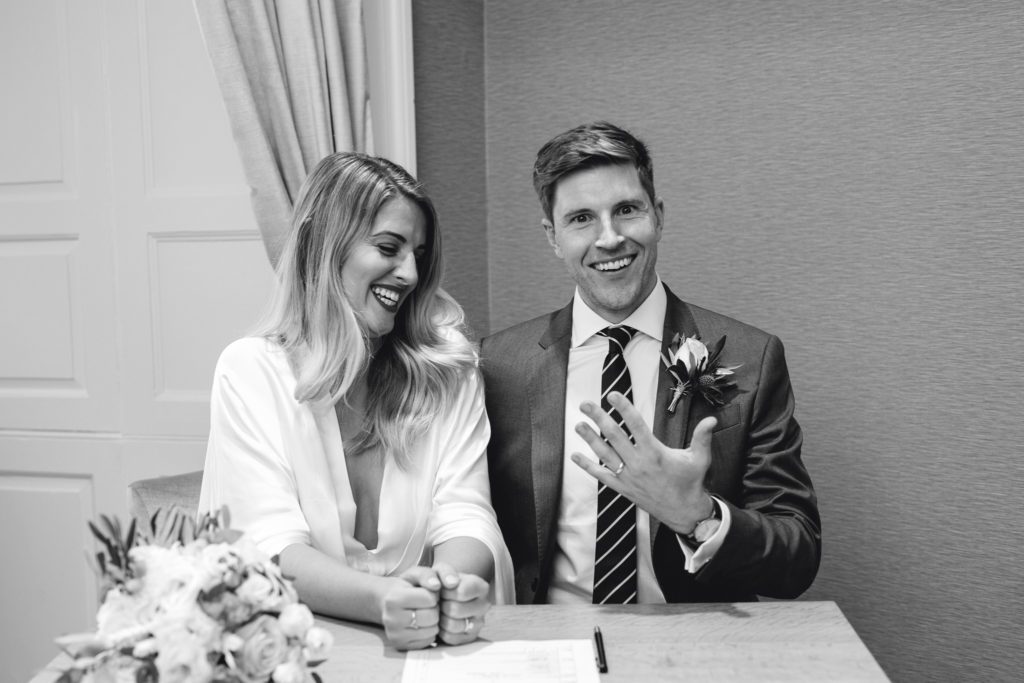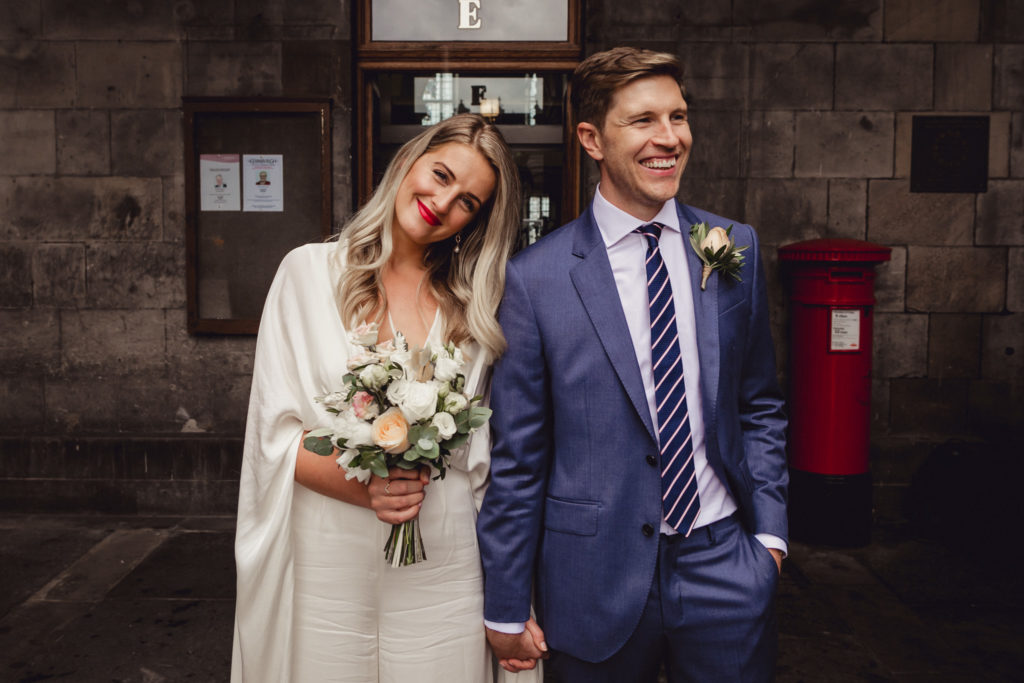 After the ceremony and lots of hugs and kisses all round it was now time to celebrate! Freddie and I had chosen our favourite restaurant in Edinburgh to feast with our new combined family. First up we took some just married pictures on The Royal Mile outside Edinburgh City Chambers. Edinburgh is one of the most picturesque backdrops.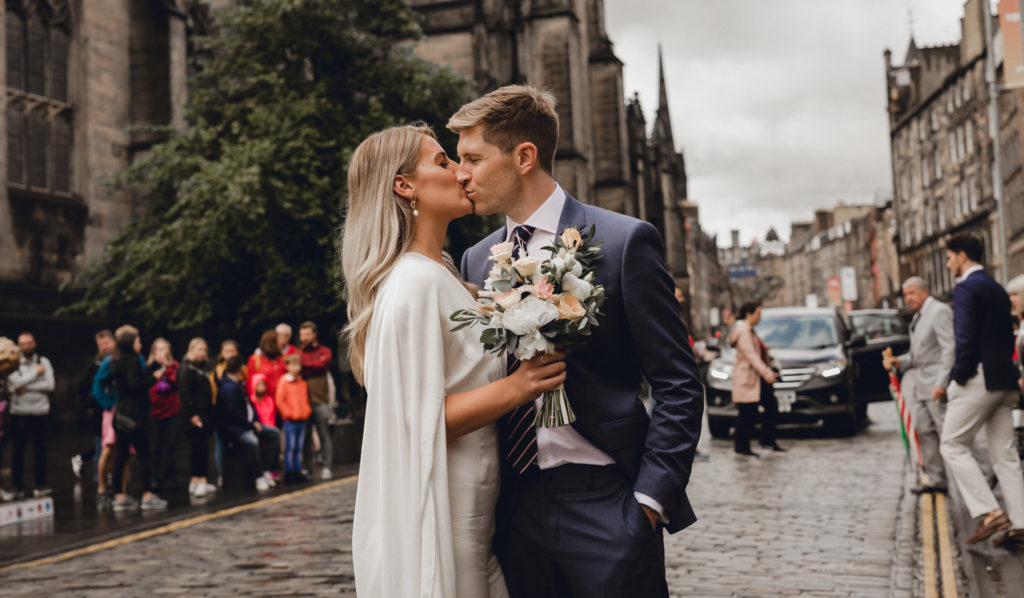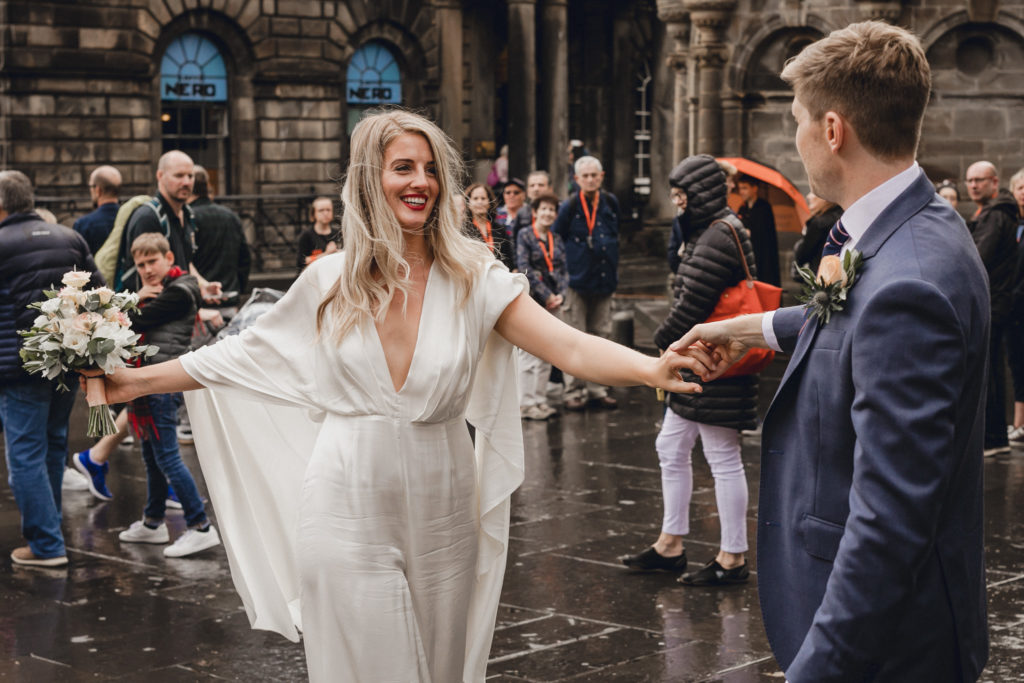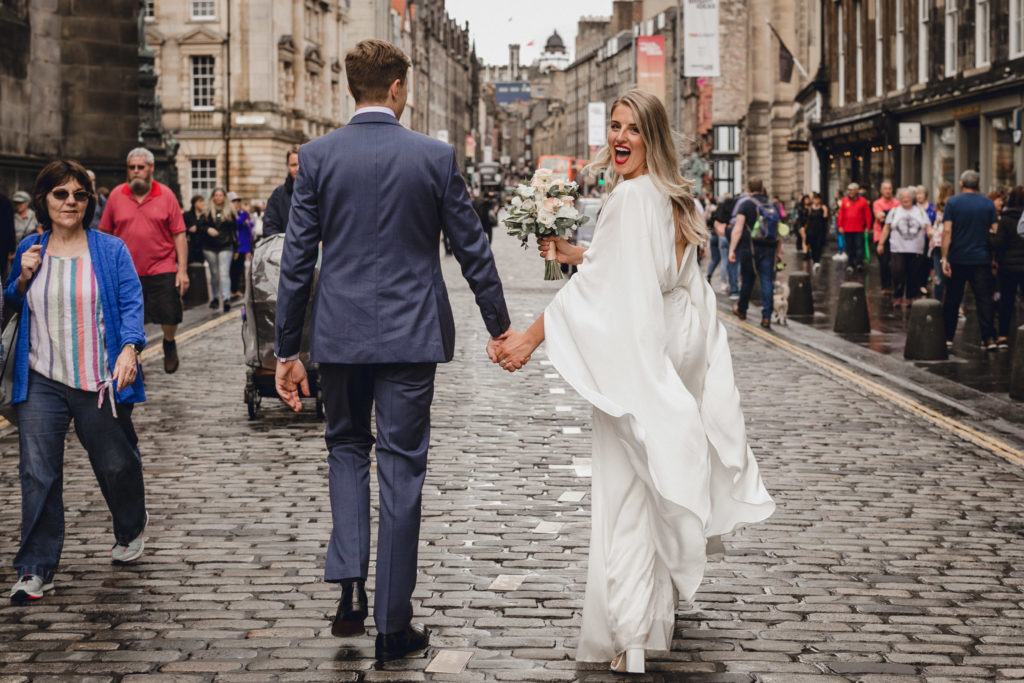 BABA is a Lebanese restaurant on George Street. The food is decadent, flavoursome and incredible quality. The decor is a vibe and really is an absolute must visit restaurant in Edinburgh.
We actually started in The Garden which is a conservatory bar in the adjoining Kimpton Charlotte Square Hotel. After an hour of drinks and cheers it was time to move through to our private dining room in BABA restaurant.
We dined on array of rich Lebanese delights. The hummus, haggis kibbeh, babaganoush and slow cooked lamb were definitely highlights. You can see the full menu here: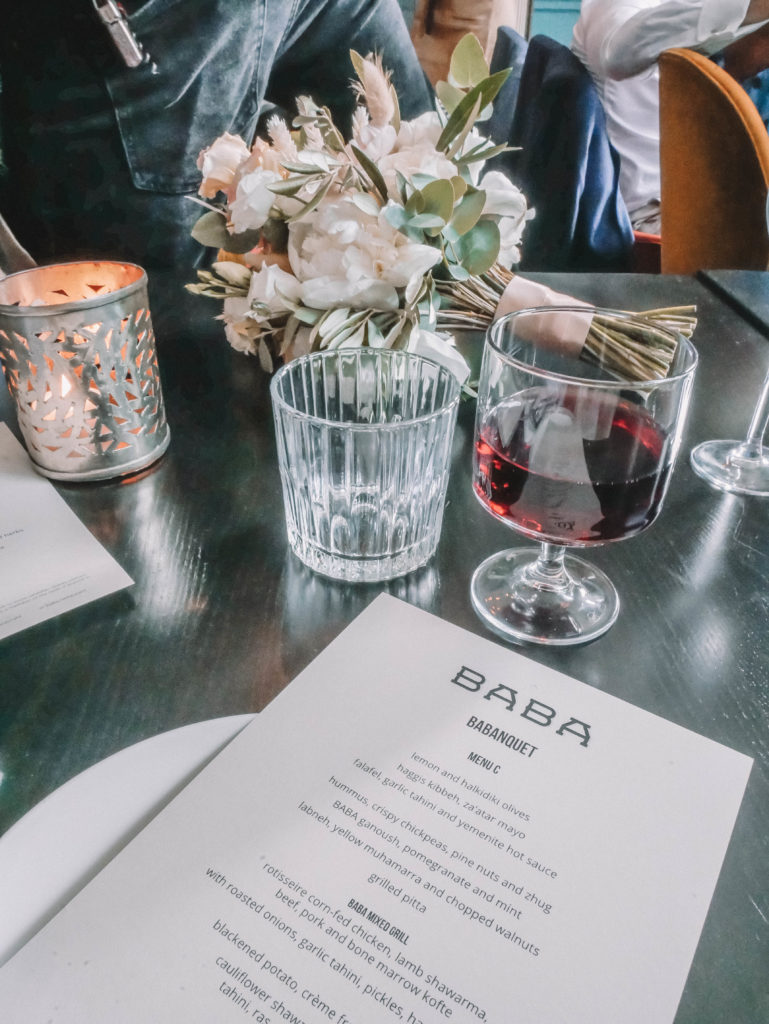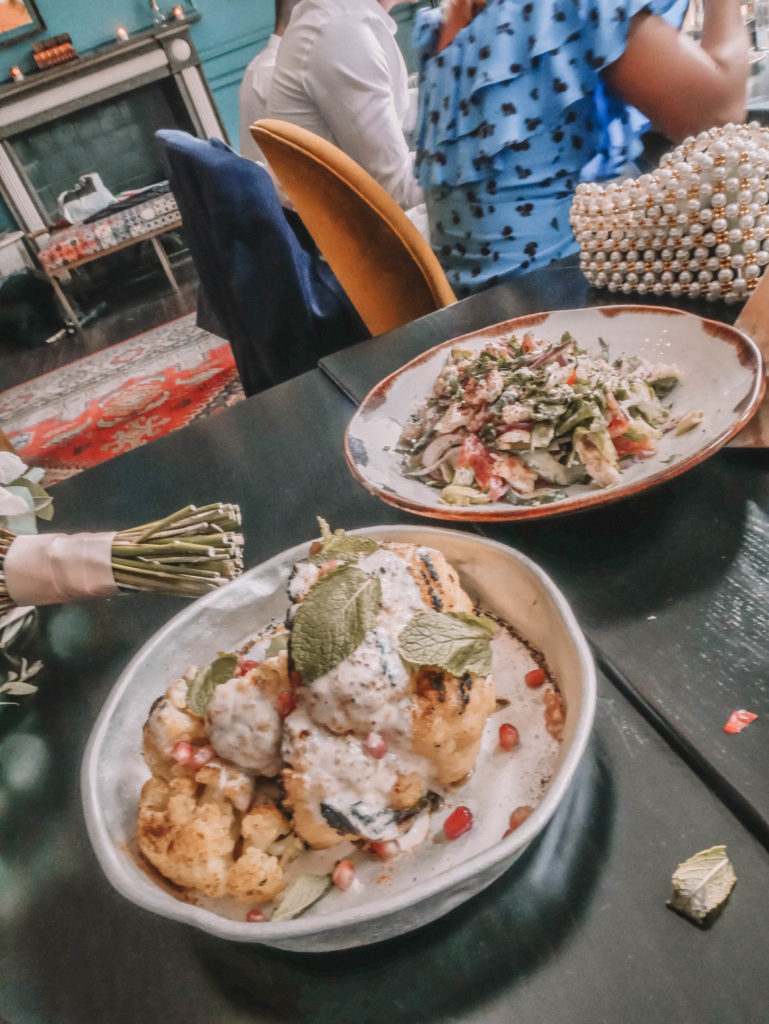 The service is also exceptional, they couldn't have done enough for us and were so very accommodating. Whilst we were planning this day and looking around at restaurants, every other restaurant had an issue with a group of 20, a baby, getting us all sat on the same table, allergies and time of day etc etc. BABA couldn't have been the opposite. Everything was "absolutely" and "yes of course we can accommodate". They gave us options to choose from a set menu and also sent us the wine list so we could pre order wines for the table. I can honestly say hands down during this whole wedding planning experience this was by far the easiest thing to organise purely because they were so happy to help us make the afternoon exactly how we wanted it.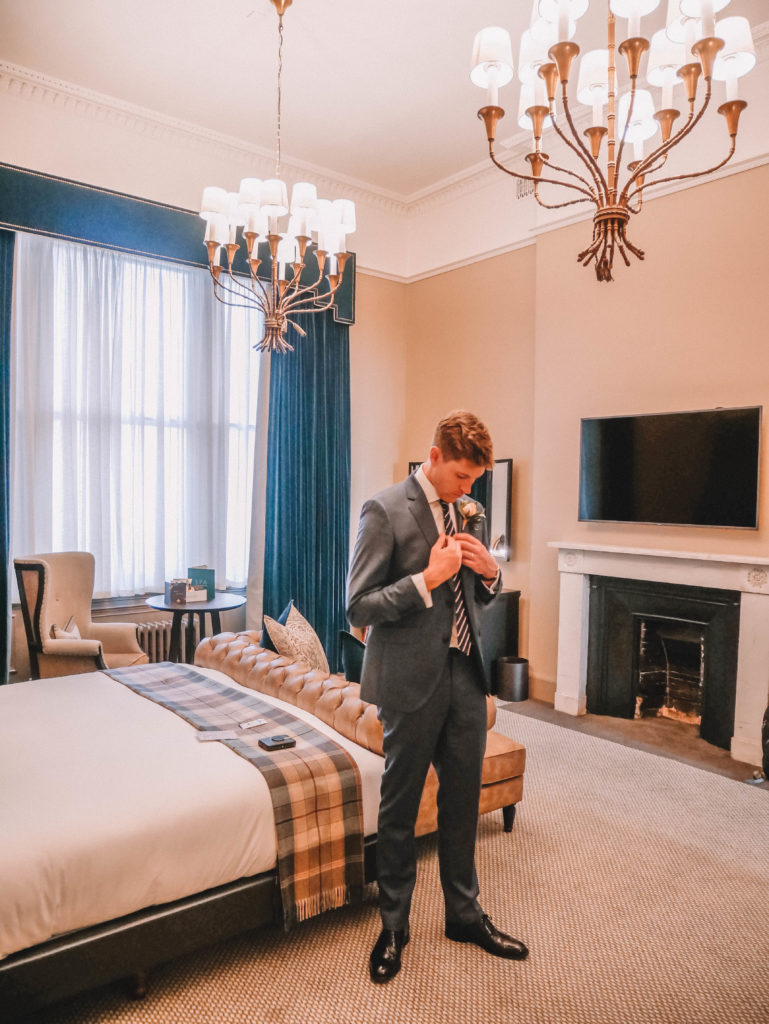 After the most wonderful afternoon celebrating with our family, it was time Freddie and I retreated to our hotel room as newlyweds. We made the smart move of booking a room at the conveniently adjoining Kimpton Hotel. The hotel is a newly refurbished arrival to Edinburgh's boutique hotel scene.
It's achingly cool and Insta worthy shots in every corner. The lobby space is chic and The Garden is a light and airy space for breakfast or drinks in the afternoon.
The rooms are plush. Staying true to its Scottish heritage in the capital with chic tartans and grand chandeliers the rooms have a real luxurious feel to them.
Brought into modern day by Nespresso machines, unlimited coffee pods, complimentary mini bar filled with water, beer and soft drinks. The interiors are nothing short of fabulous – luxe meets modern and ultimately my interior inspo for the foreseeable future.
The Kimpton staff couldn't have been more welcoming to us as newlyweds at the hotel. We were given the Townhouse Suite – errrm WOW! It was actually bigger than our house! They kindly left us a bottle of champagne on ice and some sweet treats to toast being a married couple.
These grand gestures are obviously massively appreciated, yet the small discreet gestures also didn't go unnoticed. The staff were so accommodating to us – boxing up our BABA leftover food so we could have a little midnight feast in our room and allowing us a later checkout at no extra cost ( I mean who could blame us not wanting to leave this room? It's spectacular!) It really was the perfect place to spend our first night as a married couple.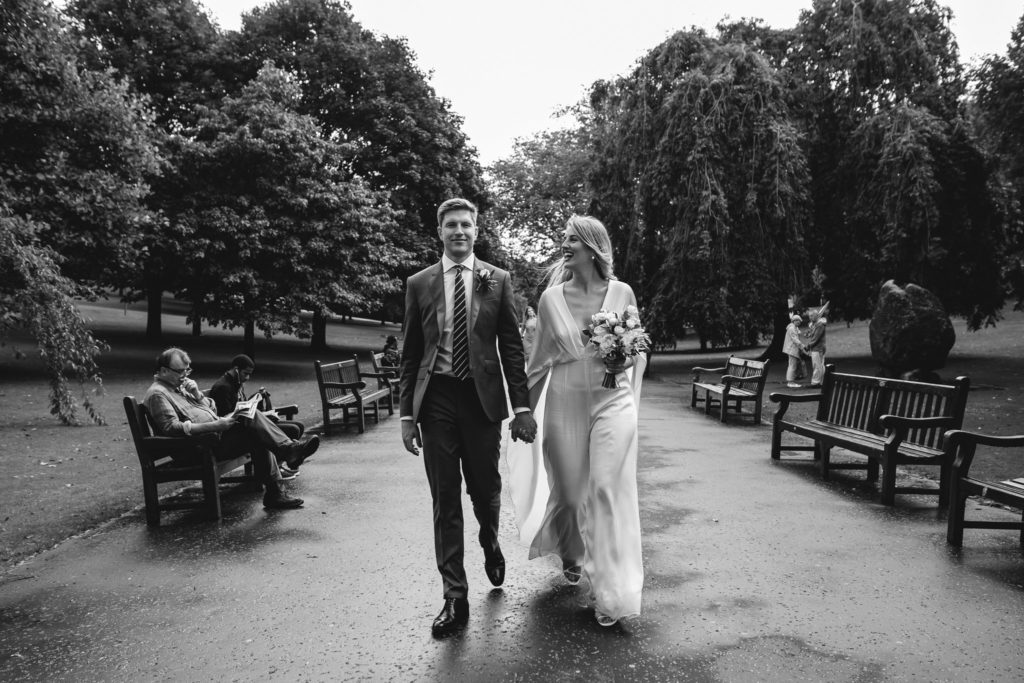 The buzz and excitement from this weekend hasn't worn off yet, and we were left so incredibly ecstatic to now share our actual wedding party with all our loved ones a week later. We both agreed it was the best decision making a real occasion for our legal ceremony a week apart from our main wedding. It let us celebrate our marriage for a whole week instead of one day. The hype in the run up to the second wedding left us feeling giddy and so excited for the big day. Will be sharing pictures and accounts of our proper wedding very soon!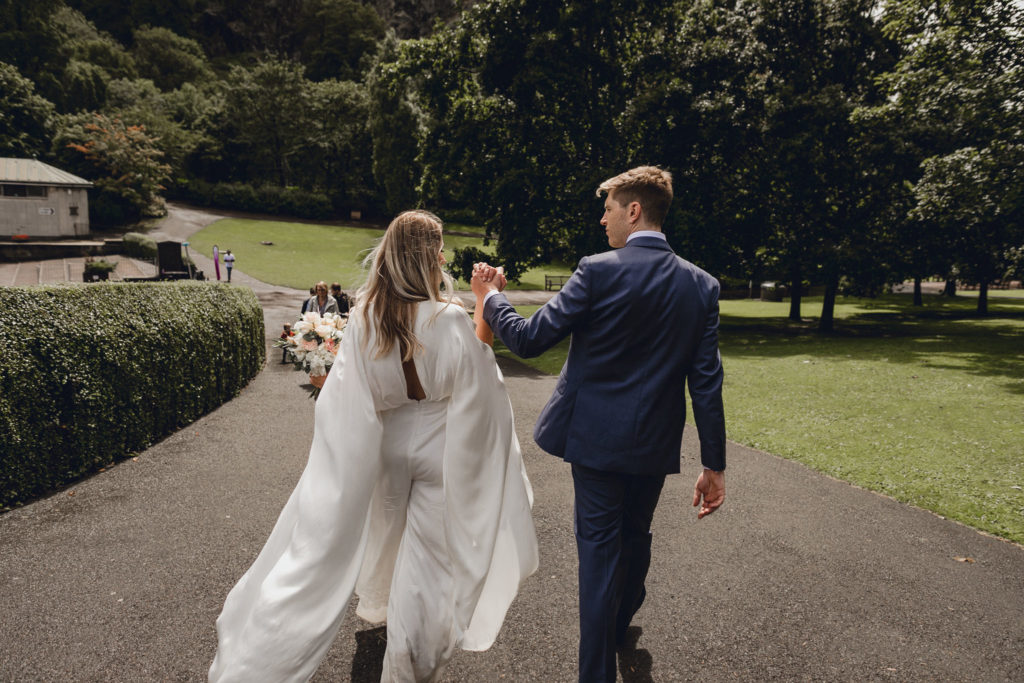 Jess x

All wedding photographs taken by Empirical Photography
Check out our West Sussex main wedding blog post here and our wedding video here.
*I use affiliate links throughout my blog to various fashion and travel booking sites.