We have just arrived back from what can, without question, be described as THE BEST week of our lives. It feels surreal to say that every single second of the last 9 days has been utterly perfect. After the final two months of wedding planning being highly stressful, having 8 nights in Maldivian paradise couldn't have come at a better time. We both never anticipated how much we really needed the relaxation and rejuvenation of a week in paradise. Read on to see why Maldives really is the perfect honeymoon destination.
We booked our honeymoon with Turquoise Holidays & received a small press discount on our hotel stays at Velassaru, Moofushi & Halaveli.
Velassaru
Twenty minutes after touch down in Malé our toes were sinking into the Velassaru sand and the last 12 hours of long haul flights from London seemed like a very distant memory. Clutching on to our ginger and lemongrass coolers we wandered round the small island to our private plunge pool beach villa.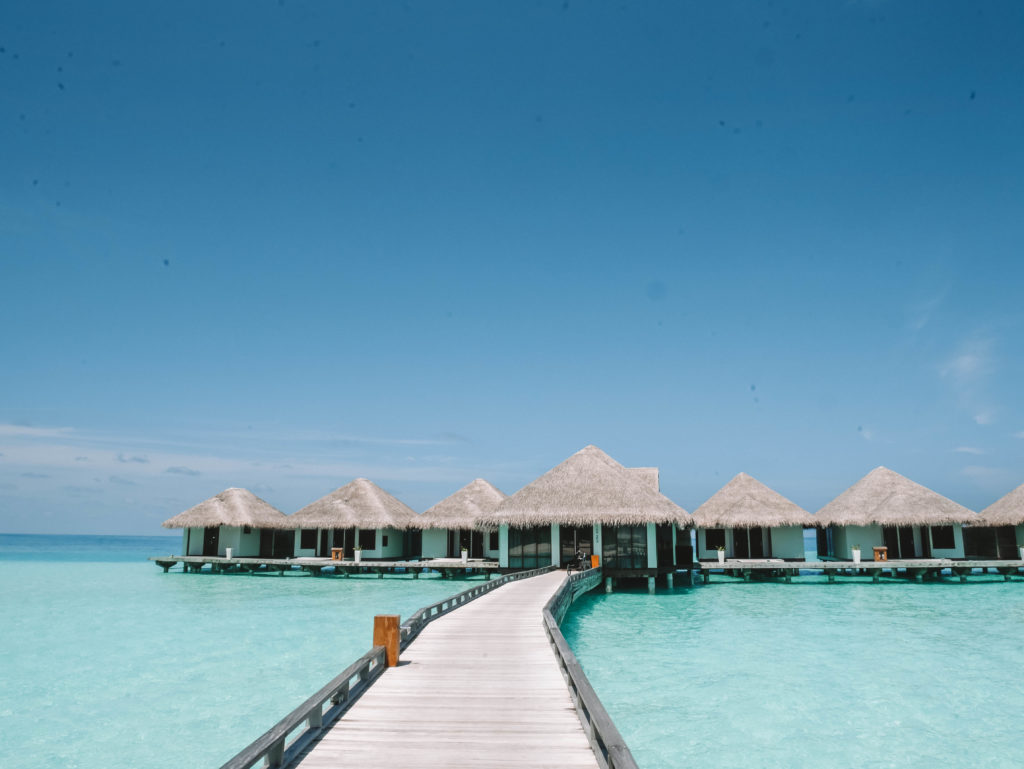 ACCOMMODATION:
This luxurious hideaway was the place we'd call home for the next three days. The room itself was utterly spectacular. We had looked at the images on the hotel website before we arrived, but what we were presented with was way more special than we had anticipated. The clean lines and minimalist design allows the eye to be drawn on the natural wow factors – the ocean 30 feet from your bed. The rooms are also designed for privacy. Our outdoor bathroom, plunge pool and room in general felt so private with luscious greenery enclosing our area. We were in our own little paradise.
FOOD:
A standout factor of Velassaru for us was not only the accommodation but also the food. It was hands down exceptional. From the melt in your mouth seared tuna steaks, the velvety homemade hummus, to the freshest soft shell crab risotto where you could practically taste the ocean was a gastronomic sensation.
SERVICE:
The service was so personal, discreet and thoughtful. Everyone knew our names, remembered our drink and food preferences. However it wasn't overly fussy, and the staff spoke to us like guests in their own home. It was the perfect balance of attentive yet not overwhelming customer service.
AMENITIES
Whilst we enjoyed the secluded element of our honeymoon here, we also loved the resort activities and experiences that were on offer.
The sunset champagne cruise is fabulous. Firstly because Taittinger champagne seems to be free flowing whilst you bob in the ocean on a traditional Dhoni Maldivian boat whilst watching the sunset, and also because they only allow small groups of people making it feel really personal and special.
The beach movie nights under the stars on beanbags was also fun. We watched Mrs. Doubtfire whilst snacking on homemade caramel popcorn and sipping cocktails. The spa with Elemis treatments is luxurious and relaxing whilst the hoards of paddle boards and free snorkel equipment is there for anyone looking for something more adventurous. I'll stick to the spa treatments though.
The 20 minute speedboat journey from MLE airport means your vacation starts immediately. We both agreed five nights would be the perfect amount of time here & would do it as the first resort when arriving into the Maldives.
Top tip: if you're brave enough to risk visiting in the rainy season it's completely worth it for up to almost half off the normal room rate. There's also more chance of being able to upgrade your room and get early check-in and late check-out.
Velassaru Highs:
Private and luxurious accommodation
The exceptional food
Attentive yet discreet service
Velassaru Lows: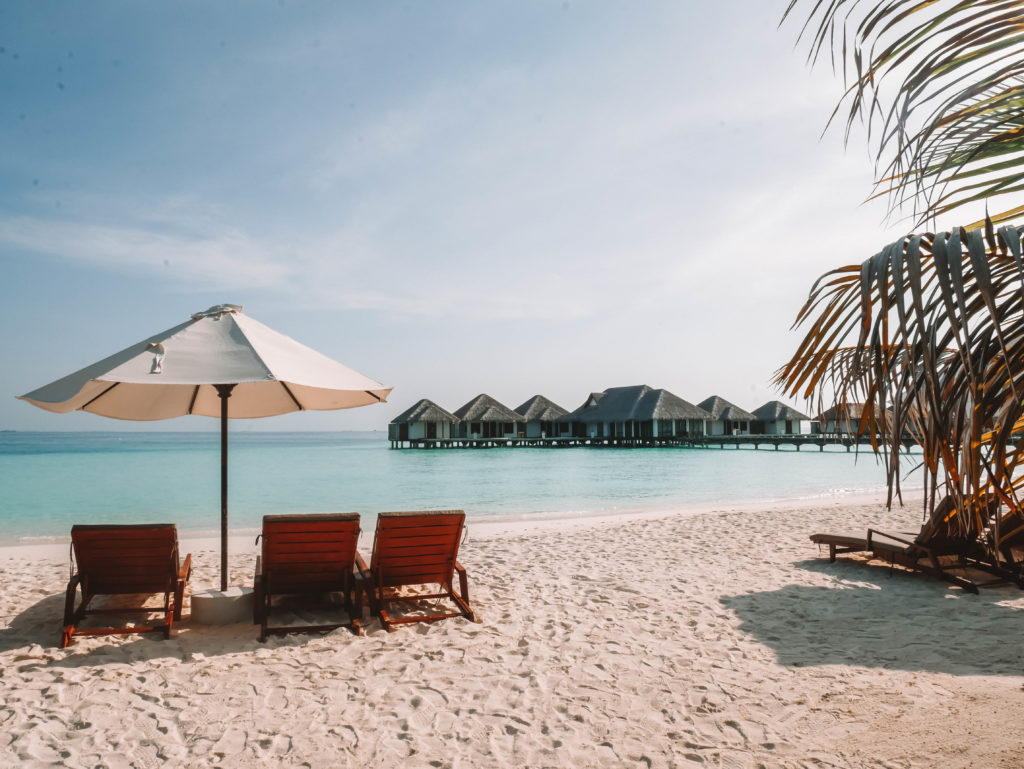 MOOFUSHI:
Moofushi was very different to the other hotels we stayed in. It's unique in what it has to offer. As we stepped off the seaplane and onto a floating jetty in the middle of the ocean, the No Shoes, No News sign was the first thing that caught my eye. Constance Moofushi is keen to encourage their guests to really immerse themselves in island life and leave behind all the worries of the world at that jetty. The "island time" they run on (+6hr) gives optimum daylight hours at the resort. The vibe immediately felt more rustic and relaxed here. A very laid back way of life on the island which is unavoidable to slip into.
FOOD
It's an all inclusive yet doesn't give off the same OTT vibes as usual all-inclusive resorts. It's low key in its offerings yet the quality is exceptional. We had fresh grilled tuna steaks every day, fine wine at any hour, premium spirits in our cocktails and plenty of seafood dinners. First and foremost the guests are here to snorkel and enjoy the stunning house reefs, the full complimentary food and drink is a luxurious convenience after building up an appetite from a day in the ocean.
CORAL:
The coral reefs at the resort are hands down the most stunning we have ever seen. There are three snorkel spots directly off the shore of the resort all with an incredible abundance of marine life – sharks, eagle rays, SO MANY fish. Also a short boat trip away are other ocean reefs if you want to see turtles, black coral and mesmerising reefs edges that fade into the dark blue ocean.
SPA:
The spa setting here is beyond idyllic. Treatment rooms that are set on stilts in the ocean, wooden shutter doors that open out to let that sea breeze in and glass tiles on the floor so you can actually watch the sea life as you get a massage. Two days in a row we opted for the Balinese massage as they were so good – actually one of the best massages we've both ever had.
SUSTAINABILITY:
What Moofushi is doing to preserve the wildlife in our oceans and become a more sustainable resort every day is applaudable. They have no single use plastic, use only 100% biodegradable straws, and natural raw materials are used throughout in their conscious design in the rooms. There are no engine based water sports – no gas, fuel, noise pollution and all drinking water is desalinated ocean water. There is minimal light pollution with most lights turned off in evening, this also makes for epic stargazing.
SERVICE:
The service here is so good. It's obvious that the staff enjoy working here and their enthusiasm for everything is reflected in the service. Pavan, one of the chefs made us local Maldivian curries at two meals because it wasn't at the buffet. We were made to feel so special and accommodated for.
Moofushi Highs:
The snorkelling. Hands down the best we've ever seen.
The spa – stunning location and amazing massages
Moofushi Lows:
Island time was ever so slightly confusing and meant we almost missed our spa appointment.
This is more of a personal thing but we don't benefit enough from the all-inclusive package because we don't drink enough. There isn't an option to do full board which would have been preferable for us cost wise.
Halaveli
Our final pitstop on the honeymoon whirlwind tour of the Maldives was Constance Halaveli. A sister hotel of Moofushi, we took a 30 minute speedboat between the islands.

When we arrived at the last resort of our trip, we realised Turquoise had saved something so very special for our final hotel. This place is another level of luxury, privacy and just all round perfection.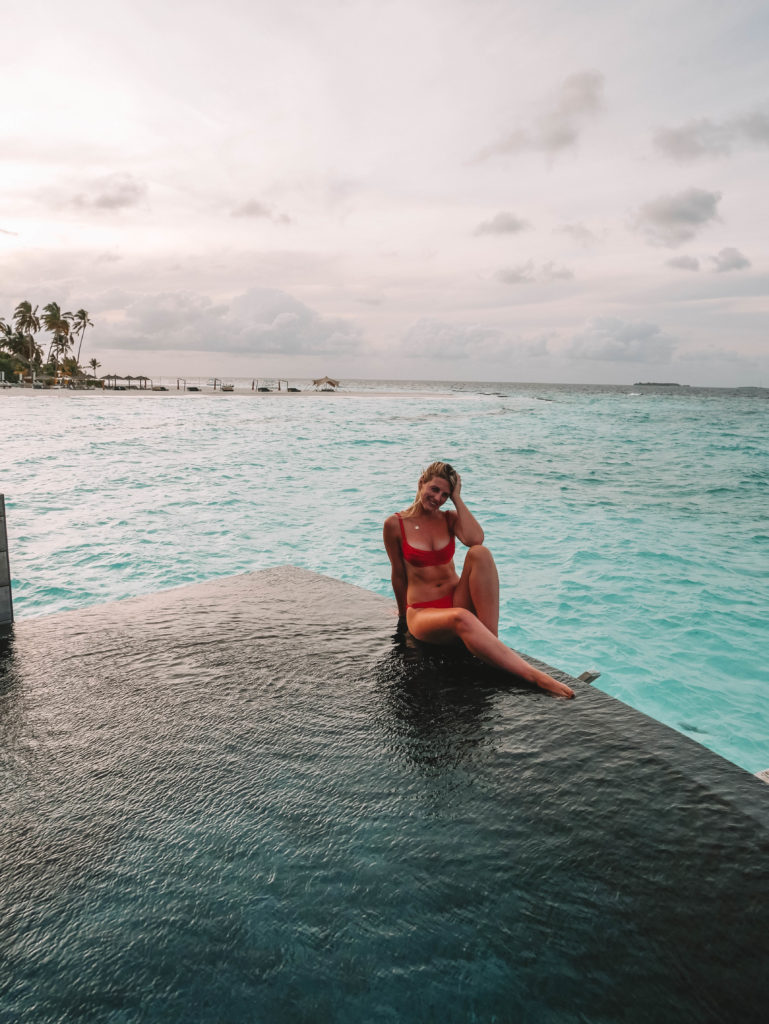 ACCOMMODATION:
We were taken to our room, which was utterly phenomenal. This is an entry level room at Halaveli. Every room in the villa has glass doors out to the beautiful terrace, all with a private plunge pool. Even though the water villas end up being very closely positioned to their neighbours I cannot emphasise the level of privacy in the way these rooms have been designed.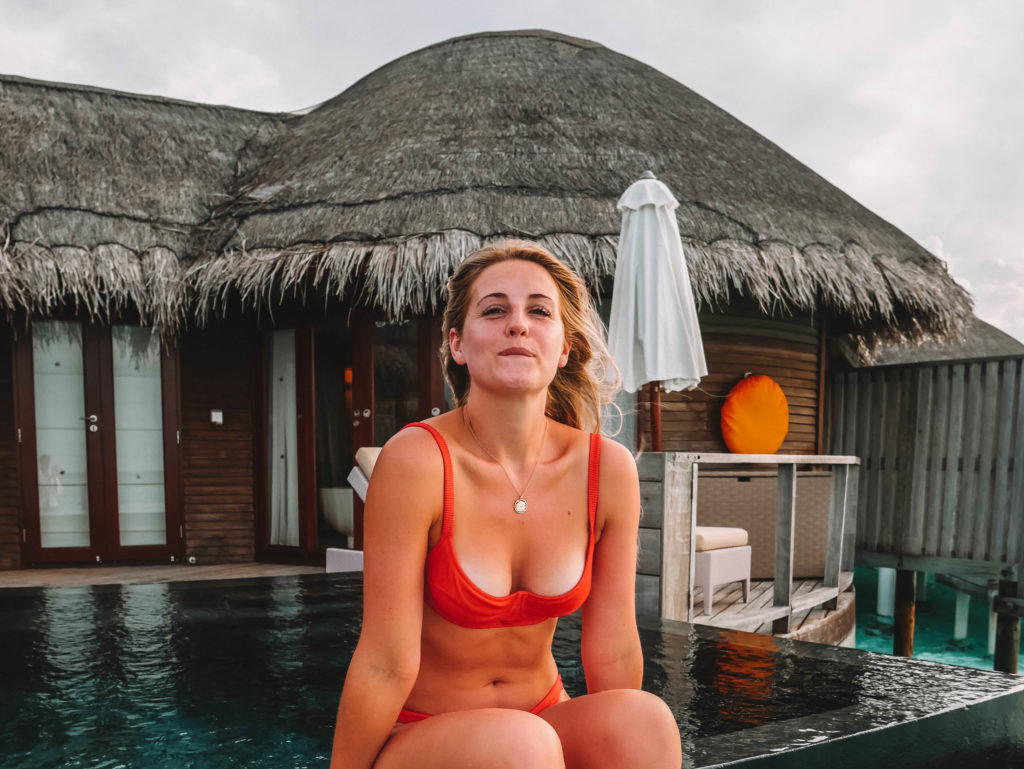 We spent most of our time on our terrace at our plunge pool that really was our own little private paradise.
FOOD:
Halaveli go above and beyond to make your stay special. The food is unbelievably good. The first night we dined at Asian fusion restaurant, Jing. The bread (kimchi infused with miso butter) was a great taste of what was to come for the rest of the meal – Vietnamese rice paper rolls and reef fish with kimchi asparagus.
The following night at Meeru restaurant our dining experience was a completely different vibe. A more relaxed barefoot dining and open kitchen arrangement, yet the food was still as exquisite. We had tuna carpaccio, lobster bisque, Mahi Mahi and rib eye. My mouth still waters when I think about how good this was. Even the buffet which we enjoyed at breakfast and lunch is another level of quality. Champagne for breakfast, a pastry chef on site making croissants that could rival those from a Parisian boulangerie, and freshly squeezed juices from pretty much any fruit you can imagine.
The sommelier wine recommendations were incredible. They'd wait until we'd ordered food and then be in to recommend wines to pair. The sommelier recommends were $10 a glass, which was considerably lower than we'd anticipated being positioned in the middle of the Indian Ocean a far cry from any vineyard.
SPA / FACILITIES
Becoming accustomed to an habitual way of life on our honeymoon we decided to have our fifth and final treatment at Halaveli. We opted for a 45 minute back neck and shoulder massage. Once again the Constance treatment rooms didn't disappoint. The usual doors opening to the ocean and glass viewing plates on the floor to enjoy the marine life all making for an idyllic environment for utter relaxation.
The island itself is beautiful. Plenty of snorkelling spots, stunning beaches and also a really nice quiet pool area. We would do daily morning walks around the island taking in the quiet, secluded spots that have been positioned in a way to make you feel like you're the only couple on the island. It's not a question of if we will return, but when we will return.
Halaveli Highs:
The accommodation. A room so special we never wanted to leave
The food – quality yet simplicity in the dishes wowing us to new levels
Halaveli Lows:
Two nights was absolutely not long enough and we wished we could've stayed a little longer
For more information on creating a tailor made trip with Turquoise click here.
DID YOU ENJOY THIS ARTICLE? PIN ME FOR LATER