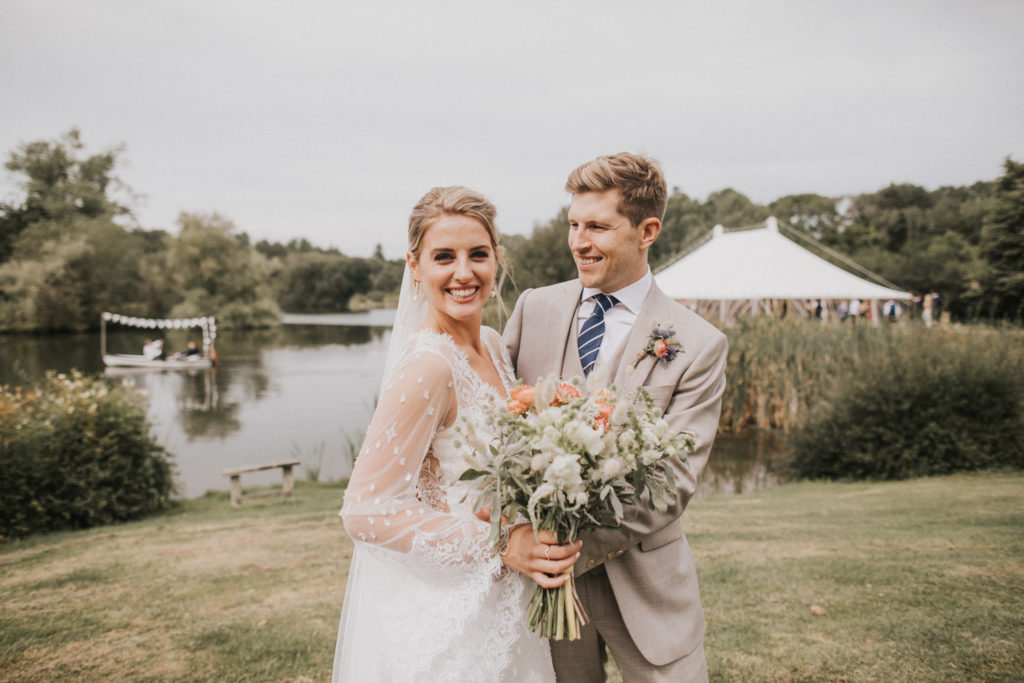 It's funny how I said in my previous blog post that our Edinburgh wedding was THE BEST day of our lives. Of course it was, it was the day we got married in front of our immediate family and I didn't think I could feel any happier. WRONG! Then we had our actual wedding a week later in front of all our immediate family plus other family members and all our friends! Now that was truly the best day of our lives.
All photos used in this blog post were taken by our wonderful photographer Brook Rose.
Over a month ago now and I still think about our wedding every single day. Each time I allow my mind to wander to how it was everything we could've ever dreamed of, and each time I remember tiny little extra details. I am desperately trying to hold on to each memory and relive every moment.
We got married at Duncton Mill Fishery in Petworth, West Sussex.
Goin' to the chapel AKA a marquee in a field in the pouring rain.
When we'd booked our venue 9 months before we agreed it was a gamble to get married outdoors in the UK and were prepared for whatever the weather. However we never really did think that it would be a constant six hours of grey, dark drizzle the morning of our wedding. Luckily the downpours stopped just as our guests were arriving, and the rain seemed to hold off for the rest of the day – phew!
We actually got legally married the week before – you can read about it here.
Dress: Claire Pettibone bought pre-loved from Edinburgh Bliss Studio
Hair: styled by Sam Orwell Hair Makeup: Serene Beauty
In usual Parr fashion I was late. Only by a few minutes, but I've kept Freddie waiting for five years why stop that tradition now?
The Ceremony:
We had our friend, Rick, marry us. Conveniently he ordained himself the year before. Seeing as this wasn't our legal ceremony, we were actually already officially married and this was more of a celebration, we decided to have a little fun with it. Rick wrote out the ceremony and we added in extra personal touches by reading out our own vows, and having my best friend Lisa and Freddie's sister, Faye, both do a reading for us. We kept the ceremony short and light hearted, as we wanted to maximise the day with plenty of eating, drinking and dancing.
We rowed back over to the marquee whilst our guests walked round and welcomed us to the party with a confetti tunnel.
The Reception:
The reception lasted an hour and a half and was where we served our guests our favourite meals all created into mini canapés. The catering was actually my favourite part of our whole day. We worked closely with Mark from Chefs On The Move to create the perfect sharing menu for us.
The mini fillet steak and chip canapé seemed to be the favourite amongst guests, however the winner for me was the buffalo chicken. My favourite food of all time and Mark had made it into the perfect canapé.
Whilst the champagne was being poured and the canapés passed around we had a Ron on the Sax walking amongst the guests playing to the backdrop of house beats.
Next up it was time to eat properly!
Someone recently asked me what my favourite part of the whole day was in one snapshot and hands down it was the feeling from being in that marquee.
It was filled with so much noise, love, happy chatter and just general good vibes. We dined at long trestle tables under leafy foliage and fairy lights.
Guests helped themselves to sharing boards of mixed mezze followed by salmon or rubbed pork fillet served with salads and slaw. Our favourite meals are tapas and bbq so we wanted to be able to combine both themes on the day but not overwhelm people. Once again full credit to Mark who designed this menu and a full blog post coming on our food, drink and cake details!
Speeches:
First, my dad's which was lighthearted and sweet. He called me out as a three year old at nursery trading my milk with a classmate for their biscuit. A memory I had forgotten about, but proud of myself even at 3 years old knowing milk was the devil and biscuits were a valuable commodity.
Next up was Freddie's. I wasn't expecting the groom's speech to be funny, yet it was highly entertaining whilst also very heartwarming – and even earned a standing ovation.
Followed by the Best Man, Freddie's brother Dan. An outright hilarious and tad shocking yet completely tasteful speech. It uncovered many stories I didn't know about my husband but nonetheless was a great 15 minutes watching Freddie sit there with his face in his hands for a lot of the time.
Following the food we decided to put on a cocktail hour at sunset for our guests before cutting of the cake and first dance.
We'd designed two cocktails "Freddie's Rum Punch" and "Jess's Rhubarb Gin". A classic dark rum, lime and sugar syrup punch for freddie, and an incredible Edinburgh Gin based cocktail for me. Using their unique Rhubarb and Ginger gin we mixed in lemon juice, soda water and sugar syrup. They were downright delicious and got our guests raring to go for an evening party. Our gin was kindly gifted by Edinburgh Gin.

We cut the cake just before hitting the dancefloor. A four tier, decadent cake made by Foxwood Cakes. This was a very last minute change of heart here. We booked Foxwood cakes three weeks before our wedding after trying their cakes at a friend's wedding the month before. Quickly realising we HAD to have this cake for ourselves too. Hands down the best wedding cake I have ever tried in my whole life. We went for four different flavours – Lemon, Cherry Bakewell, Raspberry & White Chocolate and Terrys Chocolate Orange. We also had a huge wedge of each layer boxed up for us to take home and it sits patiently in our freezer ready to tuck into on a rainy day. There will be zero chance of us waiting for our first wedding anniversary to eat that.
First Dance:
Our first dance was Ho Hey by the Lumineers which went straight into Crazy Little Thing Called Love by Queen. The best song to kick off the party and got everyone up on the dance floor. And quite simply for the next three hours some people didn't even leave the dance floor.
Our DJ was AMAZING! Freddie's friend Miguel was on the decks from first dance until lights out.
Of our top 3 most important things on the day, good music was one of the criteria. The other two were amazing food and free bar all day and night. I do think if you can get these three things right the wedding is going to be spectacular regardless of any other details.
One thing for certain is this was hands down the best day of our entire lives. Never underestimate the power of having everyone you care about all together in one place, celebrating the most wonderful emotion that exists – love, love, LOVE!
All photos in this post were taken by Brook Rose Photography.
Check out my daily adventures on Instagram
Watch our wedding video here.