This blog post has been written in partnership with West Elm and includes gifted items and affiliate links*
Five months after we moved into our home we finally have one completed room. Hurrah! It feels like such a victory getting a room finished. There were times we questioned why we started working on our already liveable home when we had a crazy year ahead of us – wedding and career change, why not throw in a home refurb as well? We do love a challenge.
We moved into our victorian end of terrace in March and whilst it can be defined as liveable it absolutely wasn't our taste. It was a landlord's dream – magnolia walls, brown carpets to hide all manner of stains and plastic grey office blinds in every room. Eventually we are going to do a major refurb and open up the labyrinth of small rooms on the ground floor as well as creating another bedroom on the first floor, however for now we decided a little spruce up of our living room was in order. We wanted to take on a project that was manageable and also would be finished for when we start the major renovations. The aim was to create a cosy yet lux hideaway for when the work begins.
Tasks:
Remove carpet
Sand floors
Replumb radiator under window
Paint walls and skirtings
Rewire the ceiling light
Change plug sockets
Build alcove shelving, add panelled detail
Add window shutters
Refurnish
To begin with it didn't seem like monumental task, it was just one small living room – how hard could it be? Aside from taking up all our weekends, my husband streaming the football from his phone in bed and hosting guests only at the kitchen table for the foreseeable four months it was an absolute breeze.
We worked on the room slowly, partly because we had a wedding to organise and partly because we've come to learn contractors will let you down at every hurdle. However it is finally finished thanks to help from the in-laws also sacrificing their weekends to help us paint, plaster and panel and also a little magic from the West Elm design team.
Whilst we were doing up the room, West Elm actually got in touch to discuss how we could work together. The universe aligning itself beautifully I knew just the room that would fit the bill. I was invited to try out their free interior advice service at their Design Studio in the Kingston West Elm. I worked with designer Maggie to create my dream room. First up we discussed the size of the room, the colour scheme I was going for and the over all look.
Whilst I am very good at envisaging a look I like, I struggle majorly to put it into words others can understand. I showed Maggie some images of some looks I liked and told her I wanted a balance of cosy, mid century, lux, light and airy. Good luck Maggie!
The design team were SO helpful when it came to creating a look I loved. They were patient and understanding. We went through a number of changes throughout the process. I met with Maggie twice in the Kingston store. First to bring her the dimensions of the room, discuss the look I liked and have a wander around the store where she showed me pieces that would work well. At this point we had already panelled our alcove walls, installed the cast iron effect radiator, stripped the wooden floors and painted our wall a very dark blue.
Wall panelling from Wickes. Paint is Valspar from B&Q.
At our second meeting Maggie had created a blueprint of our living room and mocked up a number of different colour schemes based on the palettes I'd told her. If you want to see more of this process you can watch our before and after vlog of the room here.
During this visit we narrowed down what I liked and actually took inspiration from two of the rooms she had designed to create one look I was fully happy with. We placed the order for the furniture and were shortly after given a delivery date.
The process was SO easy and enjoyable. Whilst I can sit and pour over Pinterest for hours, when trying to actually piece together a look for one room I can feel quite overwhelmed. Maggie really helped take away this stressful part of the process.
The paint we used was Valspar Matte in Deep Space Echo and Shetland Sweater bought at B&Q. I am so pleased at the colour of the feature wall. It was a risk but we were excited to experiment more with colour this time. We played it safe in our previous flat and kept all the walls white. It makes the room feel grown up and timeless. I absolutely LOVE the dark blue wall against the soft pink velvet of the VALENTINA arm chair. Details of brass and greenery from the plants just completes the colour palette.
My favourite piece of furniture in the room is the MID CENTURY POP-UP STORAGE COFFEE TABLE. I use it as a desk in the day and once the office hours are over the desk pops back into a coffee table. Our house is too small to accommodate space for an office so this is the perfect piece for a flexible working and home environment.
The accessories we chose for the room also help complete the look. OBSESSION is an understatement when I try and describe my love for these agate book ends. The detail is so interesting and they definitely add a touch of luxe to the room.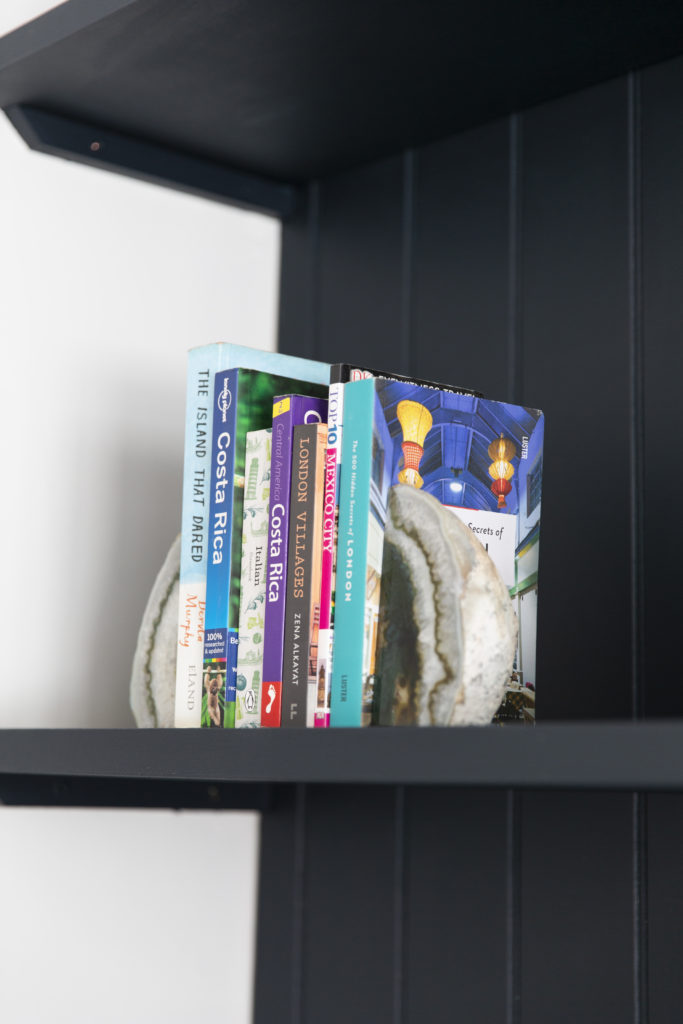 This is our first house and having left our flat that we lived in for a year and a half it really does feel like a step up being in this home. My style has evolved quite a bit and I wanted to go for a timeless look that we would still enjoy in years to come. I also wanted to be much more daring with my colour choices, textures, patterns and shapes. I am so thrilled with the result and even though it's 100% my style I would never have been able to put it together like this. So grateful to the West Elm team for helping us create our dream living room!

All items linked below:
MID CENTURY POP-UP STORAGE COFFEE TABLE
SILHOUETTE MARBLE DRINKS SIDE TABLE
STREAMLINE CONSOLE DARK MANGO WOOD TABLE
MID CENTURY BLACK & GOLD WOOD LEG PLANTER
OTHER ITEMS
Pink and modern orange poster FROM JUNIQE
Rainy day Poster FROM JUNIQE
CHECKED SEAGRASS STORAGE BASKET OLIVER BONAS
GOLD CUPBOARD HANDLES FROM ANTHROPOLOGIE